What We're Reading at Nerds on Earth: A Glimpse at Our Nightstands
While we surely spend the bulk of our time in nerdy fare, the Nerds on Earth crew has varied backgrounds and interests, so our reading list might surprise you.
Take a quick glance at our nightstands and you'll see a mixture of sci-fi, fantasy, leadership, theology, and even some technical titles. So we wanted to take a moment to share what we've been reading lately, because it's always helpful to get some reading recommendations for nerds.
What We're Reading at Nerds on Earth: Reading Recommendations for Nerds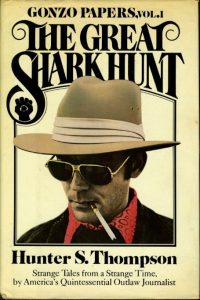 Ross Hardy  The Great Shark Hunt, by Hunter S. Thompson — My only practical awareness of anything that could be considered counterculture is a deep and abiding love for the works of the original Gonzo writer, Hunter S. Thompson.
This book collects some of his earliest writings, some of which are insane, some of which are brilliant, and all of which are interesting. Anyone with even a passing interest in the Watergate scandal, hippies, or the soul of the America in the 60s and 70s needs to at least thumb through this one. Get it here.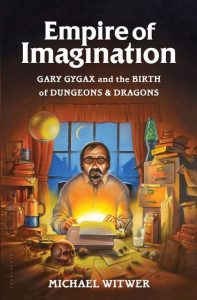 Clave Jones  I've read a bus load of books on either the history and origins of Dungeons & Dragons or on Gary Gygax himself. Empire of Imagination by Michael Witmer is the first one that rolled a natty 20.
The book covers Gary as a kid, through his years starting TSR, past his ouster as CEO, then on to his death. Even if you only have a casual interest in D&D, Empire of Imagination is a fantastic biography.
It reads fast, it's full of interesting stories and trivia, and you feel like you grow to know and understand the King of the Nerds, the All Father of Gaming, the World's First DM, Gary Gygax. Here it is in a brand new paperback!
Joseph Robinson  I just finished the audiobook Spell or High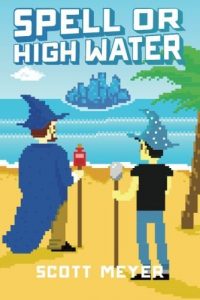 Water_, the second book in Scott Meyer's Magic 2.0 series which starts with Off to be the Wizard. It continues the story of Martin, the somewhat hapless twenty-something who discovers that all of reality is a computer simulation, and that he can have "magic" powers by manipulating the file that contains his program code.
In this installment Martin and his mentor Philip are invited to Atlantis to confer with "wizards" from other places in space and time about how to deal with those among who seek to abuse their powers (like Jimmy, the villain from the first book). Throughout their conference they experience the wonders of Atlantean architecture and culture, the crusty Phillip makes a love connection, and everyone discovers that things aren't quite what they seem at first. Here it is.
Jason Sansbury I am wrapping up the Greg Rucka penned book Alpha right now. It is a suspense work in the veins of action movies. If I was going to give you an elevator pitch I would say it is bodyguard John McClane die harding at a fictional equivalent of Disneyland.
Rucka has been down this road before in his Atticus Kodiak series about personal security and this new character, Jad Bell, has some similarities. Overall though, it is a fun summer read and an interesting take on what could happen in a Disney like environment.
Here's Alpha. The sequel is Bravo!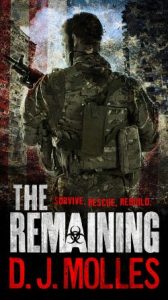 Mike Adkins  I finally got around to reading a book that was not only recommended to me, but purchased for me (that's the best kind of book there is): The Remaining by DJ Molles.
A virus outbreak ravages the world and Captain Lee Harden is ordered into his secret bunker. He is to remain there and expect daily check-ins from an superior officer who will keep him informed of the situation. If he doesn't hear from his SO for 48 hours, he's to assume the worst, wait 30 additional days, emerge from the security of his bunker, rescue any survivors, and rebuild society.
This is sort of a zombie apocalypse situation (the infected retain a fair degree of intelligence and can even use tools); Harden isn't exactly a flawless soldier (though you will definitely cheer for him); and as with most apocalyptic situations – not everyone who avoids infection is a good samaritan. Molles generates tension really well and this is a killer first book by any measure.  I'll be continuing with the series, for sure. Get it here.
---
There you have it, some reading recommendations from nerds. some being highly recognizable while others were some deep cuts. Enjoy, and please take a moment to share in the comments what you are reading!