The much anticipated second set of the Keyforge card game from Richard Garfield and Fantasy Flight games has finally arrived, and it has arrived in style!
The Keyforge: Age of Ascension Two Player Starter Box released on May 30th, and it is one heck of a deal for veterans of the game and newbies alike.
$25 gets you all you see below!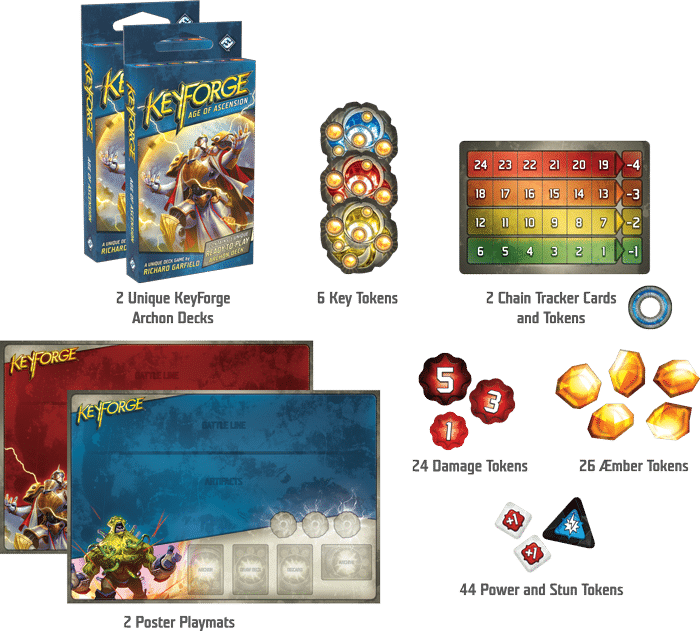 In other words: Literally everything you need for two people to sit down and play is included.
The box practically pays for itself if you break down the value of all that it contains. Decks sell for $10 a piece, and good luck finding a full set of tokens for $5 on the third party market (which exploded when Call of the Archons debuted).
Three new keywords also make their debut in Age of Ascension: Deploy, Alpha, and Omega. You can read my full breakdown of those terms here, including an explanation of Legacy cards.
You can also, of course, register your new Age of Ascension decks in the Master Vault which will then let you see how they rank globally across various metrics and play with them on The Crucible Online. I've rounded up the links to all of those things in this here handy dandy post for your convenience!
The folks at Fantasy Flight were kind enough to send Nerds on Earth one of these killer Starter Sets, so I did a bit of an unboxing below!
I didn't want the video to go too long, so I skipped taking a closer look at the decks I pulled, but here are the links to both deck lists for the curious. They both look like they're going to be fun to play!
Hieronymus Z. Heramask, the Fourth
The Master Vault says that just over 900,000 unique Keyforge decks have been registered to date. I bet that Age of Ascension will see that number soar past 1,000,000 – and fast! Snag yourself one of these amazing Starter Sets today!
Stay tuned to Nerds on Earth for more content on Keyforge and the Age of Ascension set, and ping us on Twitter with your sweet Age of Ascension deck names and lists! Who knows? Maybe we'll arrange a Crucible match or two with our followers!