With the Sony Playstation Showcase this afternoon, we finally have the launch date and the price for the two versions of the PS5.
I won't bury the lede. I won't beat around the bush. Here's the information you came here for:
Launch Date: November 12
Price: Digital – $399, Standard – $499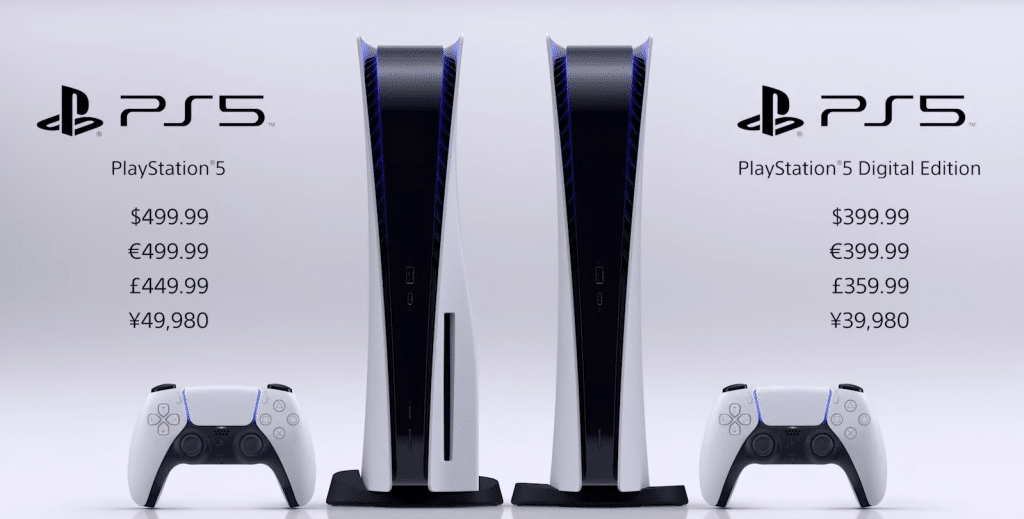 That's all you really needed to come here for, and believe me when I say that I'm HYPED for the next generation of consoles. Regardless of whether you're picking up the PS5, the new Xbox, or sticking with what you have, a new generation of consoles is always exciting.
It's going to be a hot commodity, so Sony set up a site where you can be one of the first to be notified of pre-orders going live, direct from Sony. Here's the link to the Playstation site with more information on pre-ordering the PS5. Basically, just enter in your PSN ID and you get a chance to be notified.
Of course, this only covers pre-orders with Sony. But we don't have to wait and see how other retailers handle the onslaught of people waving fistfuls of cash. Sony announced via Twitter that PS5 pre-orders will be available starting as early as tomorrow, 9/17, at select retailers.
Update: it appears that some retailers went live in the evening 9/16, so you'll be hard-pressed to find pre-orders already.
Along with the launch date and the price, there were some other notable inclusions with the Showcase. I'll highlight some of them below, otherwise check out the full video here.
Upcoming Games and Perks
With a new generation comes a swathe of new games, many from existing IPs. We were shown footage of the following:
Deathloop
New Resident Evil – Village
Harry Potter
Spider-Man: Miles Morales
Call of Duty: Cold War
Devil May Cry 5
Oddworld
Demon's Souls
New God of War
Additionally, Sony announced a new perk to the PS Plus subscription. They have compiled some of the best games from the PS4 into the Playstation Collection, accessible to PS Plus subscribers. This includes great games like God of War, Days Gone, Battlefield I, Batman: Arkham Knight, Fallout 4, and more!
This is a really nice package to tack onto the PS Plus service, which grants access to monthly games. There are a bunch of games in the Collection that I never played, but definitely want to. Especially the latest God of War, which I'll want to try out before the PS5 releases the next installment in 2021.
So there you have it. Both consoles are announced and prices are out. Gamers have choices to make, not just between companies but between the digital and standard versions for both consoles.
Both have their benefits. The lower price of the digital versions is going to drive a lot of people in that direction, especially when many people are already shifting towards a digital collection anyways. On the other hand, having a physical disc to share with friends is always nice as well.
No matter which way you're leaning, one thing is for certain: it's an exciting time to be a nerd.