Everyone loves a one hit wonder. And depending upon your age, every one of us has a song or two that we point to as our favorite one hit wonder. Mine is "Take On Me" by A-Ha, with an honorable mention to "Two of Hearts" by Stacey Q, "Voices Carry" by Til Tuesday, or "Rumors" by Timex Social Club, or "Catch Me I'm Falling" by Pretty Poison, or….you know what? I could list one hit wonders all day because we love those things.
There are also one hit wonders when it comes to Marvel Comics. Let's revisit Nomextra and Kevlor.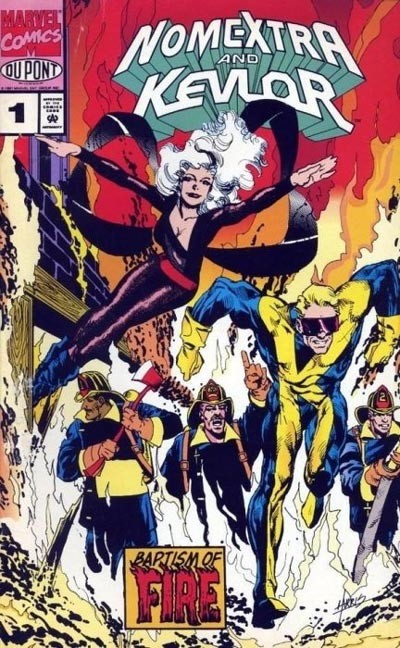 Published in 1991, Nomextra and Kevlor took the one hit wonder into the 90s, making it no less memorable forgettable. The creatives on the book aren't household names as far as comic books go.
It was written by George Caragonne, who was known for naughty books before he tragically took his own life. It was penciled by Mike Harris, who had a nominal career in comics, mostly being known for The 'Nam. But it was inked by Jimmy Palmiotti, a very successful comic talent, known mostly from DC titles.
So, was it the creative team that led to Nomextra and Kevlor being a one hit wonder? Not at all. Nomextra and Kevlor was never meant for much more.
Nomextra and Kevlor: Origins
In 1802, E.I. du Pont raised enough capital in France to allow him to purchase equipment for the manufacture of gunpowder. He took that equipment and broke ground for his first powder mills on the Brandywine River in Delaware. Over 200 years later, DuPont stills leans on their chemistry background for the manufacture and innovation of new products.
You don't have 200 years of growth as a company without creatively looking to enter into new markets, and local municipalities need to spend their tax money on equipment.
Kevlar is best-known for bullet-proof vests, but Kevlar is a heat-resistant synthetic fiber with a molecular structure of many inter-chain bonds that make Kevlar® incredibly strong. That's ideal for a fireman's gloves and other equipment.
Nomex is a closely related product and is often found in firefighting equipment, particularly the hoods, being placed on top of a firefighter's face mask, protecting them from intense heat.
Both materials were developed by DuPont in the 1960s and continue to be sold to firestations to this day. So the marketing department at DuPont had an idea: Why not have a little fun with it?
DuPont approached Marvel about creating a couple superheroes and out popped Nomextra and Kevlor. Firefighters are real-life superheroes and they use super specialized equipment, conveniently manufactured by DuPont. It was an ideal marketing tie-in.
So a one-shot comic book was produced. DuPont provided the funding, Marvel provided the creative talent. And Nomextra and Kevlor was distributed to fire stations around the country, giving firefighters a couple superheroes modeled after them.
What were the characters like? I have no idea. Nomextra and Kevlor didn't exactly stick around in the Marvel Universe. As far as I know, they've never made another appearance in the pages of another Marvel comic.
But they do have the fun distinction of being a Marvel Comics one hit wonder.