Welcome to Have Game, Will Travel! It's a fledgling series that focuses on board games for travelers! Do they pack well in luggage? Are they compact? Playable without a table? We answer these questions so you can pack the right games for your journeys.
For this installment, we're focusing on some of the small-box evergreens from board game publisher Pandasaurus Games. These games come in nearly identically-sized boxes, which makes them perfect to pack away one (or several) in a backpack, purse, or large wallet for day trips or longer trips where you have limited luggage space.
But there I go, getting ahead of myself again! The games I'll be covered in this review are:
Instead of the usual C.L.A.I.M. format for reviews, this series of travel reviews are going to be more bite-sized. I'll touch on the highs and lows of the games, ending with a Pack Rating between 1-5 Packs. Packs are functionally equivalent to Stars, but we're all about theme here, so Packs it is!
The Game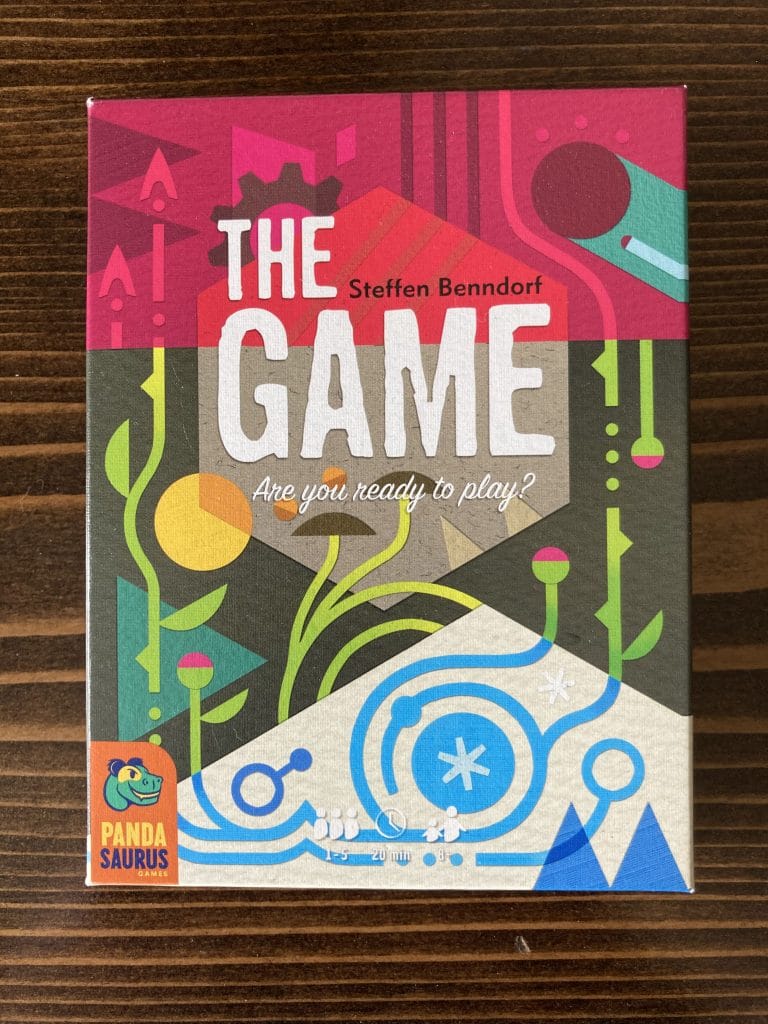 In The Game, players are working together to play all of the cards in the deck. There are four piles of cards that you'll be playing on. Two of them start at 1 and go up, and the other two start at 100 are go down. You have to play cards in order, and you can't give away specific information about your hand to the other players.
The key of this game is that players always have to play at least two cards from their hand. And, since your communication is limited, you get to see the look on the other player's faces when you mess everything up by playing a card that skips cards in their hand. It's brutal!
The Game is all card-based, and everything is constrained to four piles, plus the deck. Since you're stacking cards, things are going to easily slide around if you're riding in a car, but you could definitely play across a pair of tray-tables once you reach cruising altitude.
If you can count to 100, you can play The Game. It also helps to be able to subtract or add by 10. Other than that, it's super easy to pick up and play. Typically, I'd look at the remaining cards in the deck expecting to be close to the end and realize we're only halfway through. There's some fun nuance to realizing when to hold cards and when to play them. And sometimes, you're left with little choice of what to play!
Pack Rating: 4/5
Knocking off a single Pack for the space requirements. Great game for a campsite picnic table.
The Mind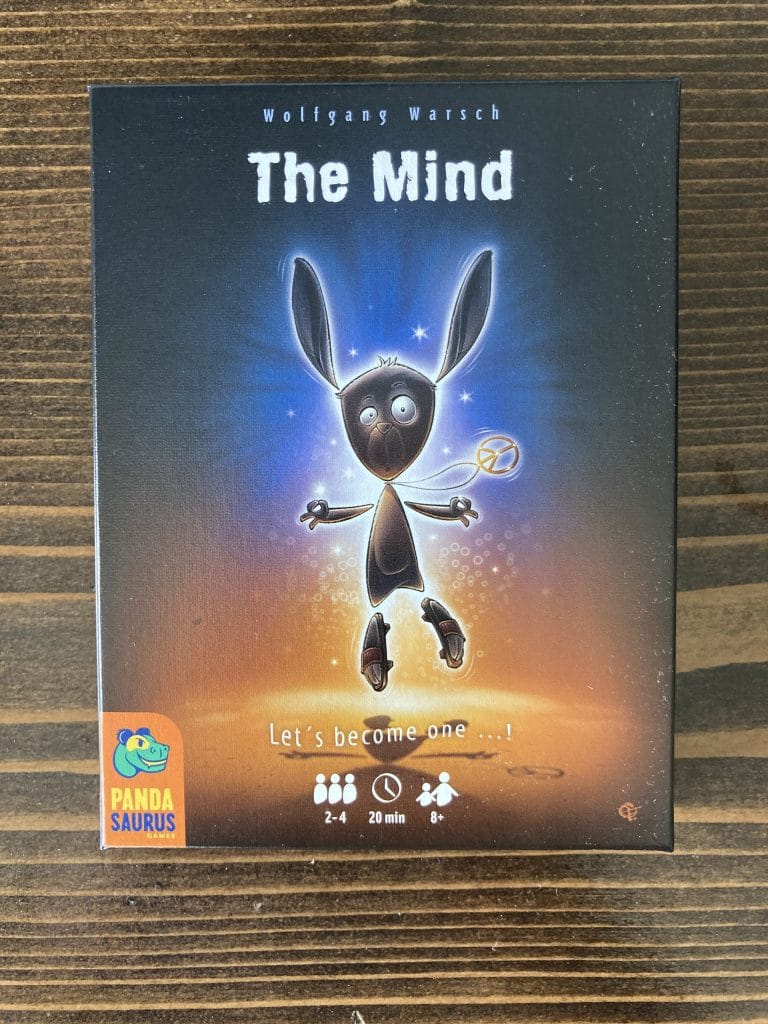 Next up is a very similar game, but OH SO DIFFERENT. Unlike The Game, The Mind is played without speaking. For someone who loves the camaraderie of the board game table, this sounds awful on paper. In reality, The Mind offers a wonderfully unique experience that makes players feel connected on a spiritual level.
In the game, players are trying to place all of their cards sequentially. The number of cards that need to be placed will be higher or lower depending on the level of difficulty selected. It's a game about premonition, psychology, and anticipation. I don't want to spoil anything about how it works, and the replayability within the same group can go down once people 'figure it out,' but bringing it up with new players is a hoot.
Again, this is a small box, portable game about stacking cards on piles. Unlike The Game, there is just a single pile that everybody plays on. Theoretically, I think this could be played in everyone's space if players said the number of the card when playing it. That way, you don't need a pile, just a brief memory of the last card played. At least, that's one way to increase the portability of the game when there isn't a suitable playing surface.
Overall, The Mind is wonderful. It's borderline visceral and out-of-body, as players transcend their earthly forms to a higher plane of existence. Alright, that's an exaggeration, but it's really good.
Pack Rating: 4.5/5
Missing that last half-Pack based on replayability within the same gaming group, but that's a minor qualm. You could convince me of giving The Mind a perfect 5; it wouldn't take much!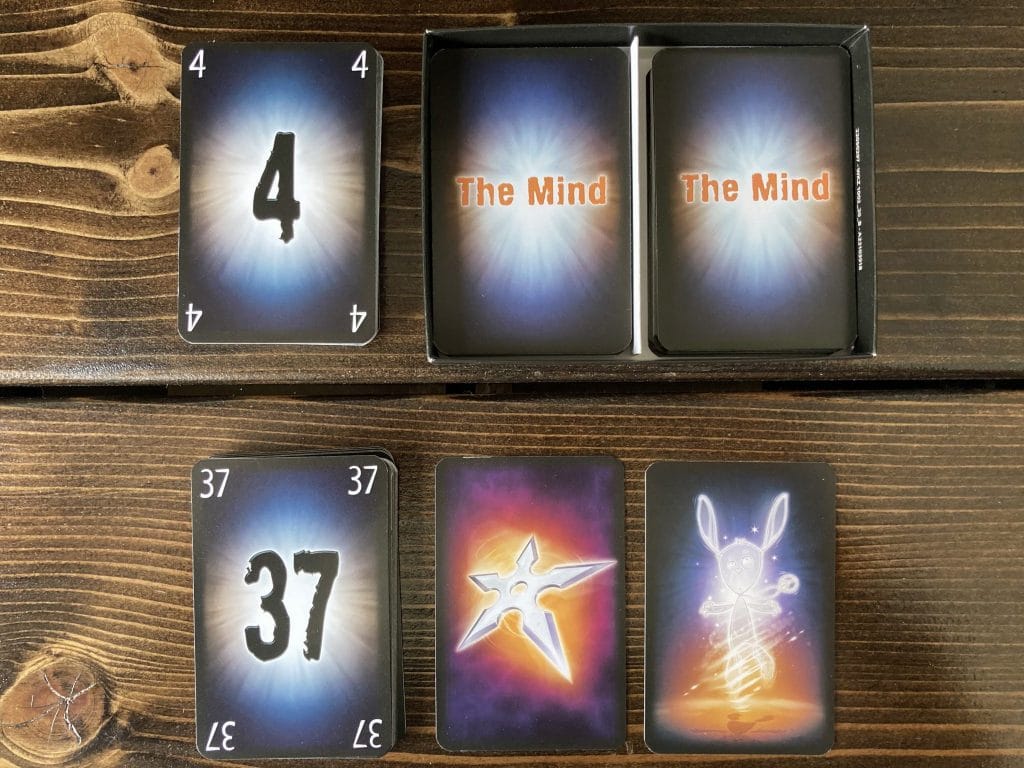 Qwinto
The first of two Roll-and-Write games on the list, Qwinto is a game about rolling dice and playing the odds. After rolling the dice, players record the value on their sheets, following rules about what numbers can go where. Numbers in a row must increase, you must write in a row that matches the color of one of the dice, and you can't have duplicate numbers in the same column or row.
What's even better, is that the non-rolling players don't even have to mark something on their sheet if they don't want to. Only the active/rolling player is required to mark something, even if it's a misthrow. The scoring is also interesting, because you get points for each row, but also for the pentagon value in each column with three entries.
Growing up, Yahtzee was a staple for us when camping. Rolling dice, like you do in Qwinto, is as timeless as enjoying an oozy S'more. Most of that comes from the fact that you can roll dice practically anywhere. Pro tip: a car's cupholder is a suitable makeshift dice-tower that won't leave you contorting yourself to find dice underneath the seats.
I love Roll-and-Write games, because they're generally great for beginners and people just embarking on a hobby. You're also left with a record of your game in the form of your scorecard. Of course, there's the downside of needing to print out new papers when you run out, but there are plenty in the Qwinto box to keep you occupied for an interstate roadtrip.
Pack Rating: 3/5
I like games with theme, and there really isn't anything there with this one. Playable with paper, pen, and a trio of dice, if you can remember what the scorecard looks like you could theoretically play this with just a dice app and scratch paper. If you happen to forget the game at home, that is.
Illusion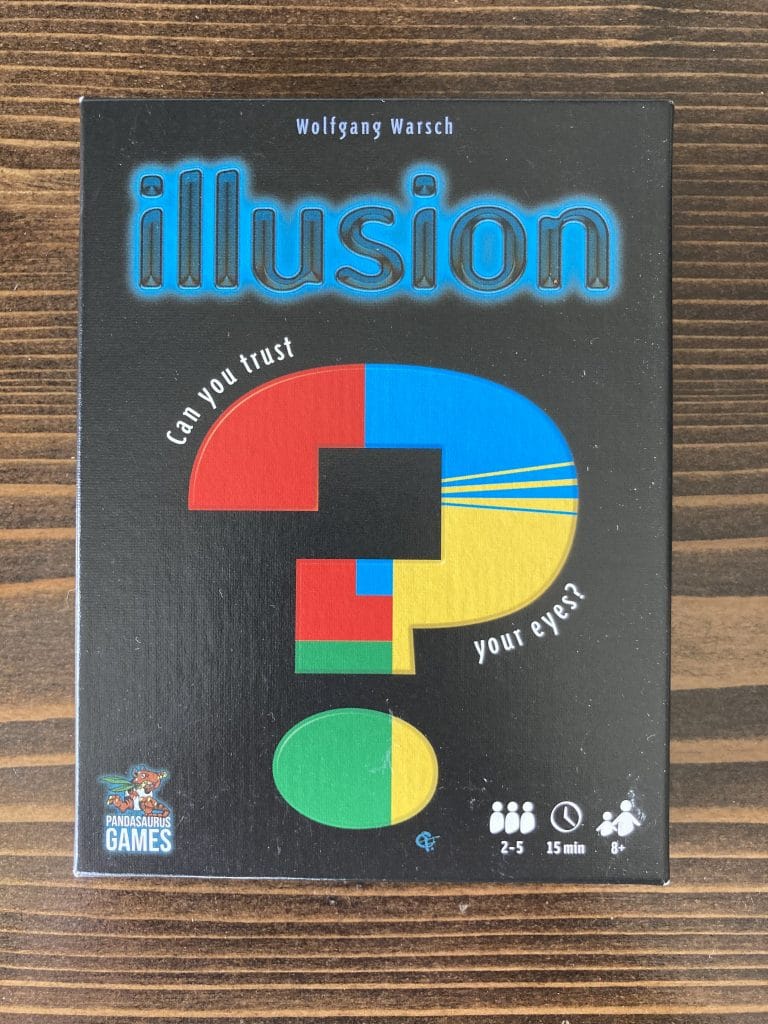 I'm going to chalk up Illusion as the most interesting and frustrating of these small-box Pandasaurus games. Players take turns placing cards from the top of the deck, wedging them at some place within a sequence. The catch? They need to place the cards so that the percentage of a defined color is incrementally increasing from left to right.
It's maddening.
If a player thinks that ANY card is out of sequence, they can claim their disbelief. At that point, all of the cards are overturned to reveal the percentages on the back. If any are out of order, that player wins the round. Win three rounds, and you have the best color-orientated spatial awareness.
There's a reason the game is called Illusion, you know. Your mind plays tricks on you as you try to compare the amount of blue on one wacky geometric design to another. We made the mistake of playing this in our tent at night, illuminated by a lantern, which made it all the more difficult.
People with color blindness shouldn't have a terribly difficult time distinguishing the colors in the game. After running several images through a color blindness simulator, people with Achromatopsia (monochromatic colors) would find the game quite difficult, whereas there should be decent distinction for other kinds of color blindness. Just something to keep in mind.
Illusion is a light-hearted game, and despite how frustrating it can be when your eyes play tricks on you, it really ends up being quite enjoyable. Main issue when traveling is that you can get an extensive line of cards. You kind of need to see all of them to make a sound decision, so you definitely need some space.
Pack Rating: 4/5
The horizontal space required is a problem when traveling, and you want to be sure you have adequate light to play the game. Easy enough to save one space and take only half of the deck with you as well.
Silver & Gold
Silver & Gold is the only game on this list that doesn't have the same exact box dimensions. This one is a bit wider, but it also comes with dry-erase markers. You write directly on the surface of the cards, and it comes off so nice and easily that you'd hardly believe it.
This is another Roll-and-Write-adjacent game. There actually isn't any rolling, but shapes are flipped over from a common deck. Players then mark off spaces on their cards corresponding to the shape flipped. Completing cards yields points, as well as crossing off symbols like coins and palm trees.
Of all the games on the list, you probably need the most space for Silver & Gold, and a decent writing surface. There is a card 'market' in the middle that everyone should have access to, and it's also useful for players to see what everyone else is crossing off. This is important for things like scoring trophies for coins, as well as who has palm trees unmarked. Still, this is playable in a hotel lobby or on the floor of the airport.
Fitting everything that players need (scoresheets, treasure maps, round tracker) within the same deck of cards makes this game hyper-portable. You don't have to worry about oblong-shaped components or printing off extra scoresheets.
Pack Rating: 5/5
Probably my favorite of them all, it's not the best travel-friendly game of the bunch. However, I'd posit that it has the most strategic depth, and therefore it's worth the slightly larger footprint in your pack.
Happy Trails!
I've very happy with this swathe of Pandasaurus offerings, and I'd be content to bring any of these along on a journey. Most trips are bound to have some downtime, and what better way to fill that time than with some fun board games!
Until next time, happy trails!