The Origins Game Fair is right around the corner again. Starting on June 9, many of the hottest hits of 2022 in board gaming are hitting the vendor floor, ready for us to enjoy. Between demos, playtests, previews, and releases, the Game Manufacturers Association has brought in a stellar lineup that's bound to razzle and dazzle us being that it marks the next big release wave of hot 2022 board games.
Additionally, this will be my first time heading to the Origins board game convention! I'll be working in the Pandasaurus Games booth (#408) doing board game demos, so be sure to stop by and say hello! You can check out the Origins show map here to plan out your days so that you don't miss any of your favorite publishers.
Heading to Origins? Here's my Top 7 list of the board games you should be on the lookout for. They'll probably go fast, so this can serve as your de facto shopping list for some of the hottest board games of 2022!
In no particular order, let's kick things off!
Akropolis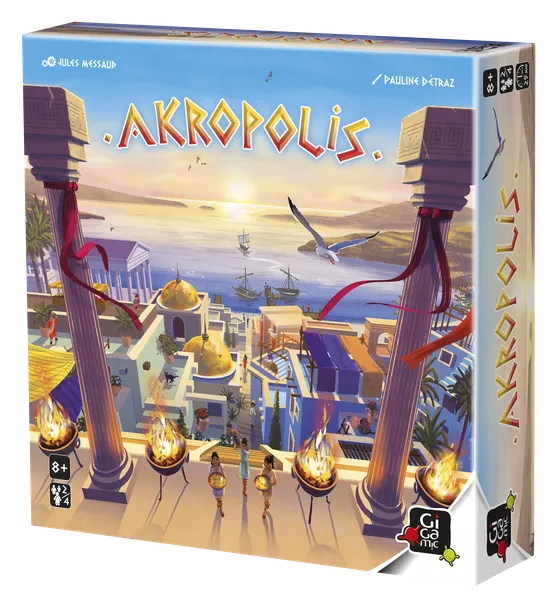 First up is Grecian game of tile-laying fun – Akropolis by Gigamic and Hachette! Ancient Greece is no stranger to the board game scene, as plenty of games like 7 Wonders and Santorini hit the table constantly. In Akropolis, players break out the hammers and chisels to grow their city upwards and outwards until it's the pinnacle by which all other cities should be judged.
What really draws me into this game is the fact that you build your city higher and higher, thereby scoring more points. The tiles are all a combination of three hexes, which means that placement is key; what will you be placing next to and what will you be covering up?
And fans of bureaucracy rejoice because your urban planning needs to fit the local building codes. Thankfully you don't need to pull any permits, but keep in mind that a well-designed city doesn't happen randomly. It takes care and consideration!
You'll be able to check out Akropolis at the Hachette Booth #954 at Origins! Official release date is July 1st.
Ark Nova
Ark Nova, by Capstone Games, has been one of the most hyped games since it was announced, the overall reception is incredible. At the time of writing this, Ark Nova sits at a whopping 8.7 rating on BGG as the 14th Overall Game and 7th-ranked Strategy game.
In Ark Nova, players are each designing and implementing their own zoo. In order for your zoo to be successful, you'll need to manage your enclosures and support the ongoing global conservation projects elsewhere in the world.
The game has been compared heavily to Terraforming Mars in its approach, especially considering its use of a towering deck of cards that players will be cycling through over the course of the game. In a similar vein, players will play those cards while simultaneously building up their zoo on a personal game mat. That's one aspect where the game differs from Terraforming Mars; everybody has their own space.
Don't be fooled – this is a long game with complex rules, and it's likely the heaviest game on the list. Heavy in terms of complexity, not necessarily in terms of packaged weight!
Even still, Ark Nova was one of my most anticipated games of the year, and seems like it will be a top game for several years.
You can find Ark Nova at the Capstone Booth #1112 at Origins!
Tenpenny Parks
Tickets please! When I first started my journey in board game design, my first concept was to make a theme park game. It's a design space that has seemed to be lacking, until Tenpenny Parks by Thunderworks Games came along!
Tenpenny Parks has everything that I want in a theme park simulator:
Managing the environment
Building concessions
Expanding your park
Constructing Attractions
On top of that, Tenpenny Parks also lets you skew your park towards the raw emotions of Thrill, Awe, and Joy. You know, because a park filled with roller coasters is much different than something closer to Busch Gardens.
The game uses tetronimos which can be placed on your property to enhance your park. You have to leave space between the tiles, otherwise how will the people navigate to all of the wonders that you've built for them?
Tenpenny Parks has amazing table presence thanks to a cardboard carousel ring that adjusts the costs of the actions spaces as it spins around and round. Thunderworks Games really captured the feel of a budding amusement park with this game. I can't wait to take a ride!
You can find Tenpenny Parks at the Thunderworks Booth #628 at Origins!
Cat in the Box: Deluxe Edition
Honestly, I don't even know what to think about the next game on the list, Cat in the Box by Bezier Games. It's definitely a game and not an experiment, they make that explicitly clear in the rules. Nothing out of the ordinary to see here!
Cat in the Box is a trick-taking game with an interesting twist; you declare the color of the card as you play it. The game plays into the thought experiment of Schrödinger's cat in the sense that nobody knows the color until it is revealed and declared! The catch is that you can't name a color that has already been declared for that number.
At the same time, players are predicting how many tricks they will win. You then earn points based on the tricks that you take, along with a correct prediction. Just don't cause a paradox! Plan ahead so that you keep the quantum realm stable and intact.
This is a very interesting concept for a game and seems like it would be a blast in the right hands. Plus, trick-taking is a very accessible and approachable game mechanic, so there should be broad appeal for Cat in the Box.
Um…the cat is also totally adorable. Which is also a strong buying point.
You can find Cat in the Box at the Bezier Games Booth #600 at Origins!
Trailblazers
Trailblazers by Bitewing Games initially caught my eye with its art style, and the cover nods to the route-building mechanics contained inside the box. I do a lot of traveling, camping, and hiking, so games like this and PARKS are always going to be on my radar.
In Trailblazers, you'll be biking, hiking, and kayaking your way around the wildness, paving trails away from your campsite. This is accomplished through the use of trail cards, which get arranged around the other trails to form a complex weaving network of outdoor adventure.
You can explore as far as you'd like by charting an elaborate trail through the wilderness, but make sure that you're able to connect it back to the campsite in a closed loop to get those sweet victory points. Trailblazers is very much a dominoes-style game except that cards can overlap existing cards to continue the trails.
Ryan Courtney has designed other spacial puzzle games like Pipeline and Curious Cargo, and Trailblazers is a faster game than those other designs. And there's also a solo mode, which is always a big hit for me too!
You can find Trailblazers at the Bitewing Games Booth #1061 at Origins!
Oak
Alright, so maybe this is a subliminal thing because the O in Oak reminds me of Elden Ring, but I absolutely love the feel that I'm getting from the Oak cover.
Oak is a game about druids learning from the mighty Maple tree in the middle of the forest. Just kidding – it's obviously an Oak tree! The game features hand management and worker placement mechanics, including an interesting method of upgrading your meeples.
As your meeples progress to elder druid status, they get fancy new bling to adorn their wooden frame. There will be no mistaking those druids for normal druids after they get their hands on these golden boons, that's for sure!
There are a lot of concepts in the game and I'm still very curious how they all interact with each other. You have artifacts, potions, shrines and menhirs, creatures, and even tree-climbing. Plus, there's a Solstice Festival that you still need to prepare for. When will we have the time?!
Oak was funded on Gamefound and is currently awaiting production and fulfillment. Therefore, this would be a demo title for Origins this year.
You can find Oak at the Game Brewer Booth #1022 at Origins!
Castles by the Sea
Last on the list, but certainly not least, is Castles by the Sea by Brotherwise Games! I'll tell you what – I didn't have sandcastles on my 2022 Board Game Theme bingo card, but this game seems to deliver this concept in an incredible way. I love how the natural wood blocks don't need anything extra to instantly remind you of building a sandcastle on the beach.
The goal is to keep your pieces on the shared board as long as possible. Everybody knows that a sandcastle is in constant threat from numerous hazards: rising tides, stomping tourists, and errant volleyballs. Things are no different in Castles by the Sea! Protect your pieces from "The Giant" and "The Terror" that roam the sands!
The worldbuilding for Castles by the Sea is amazing, and reminiscent of their inspiration to Studio Ghibli films. It's a beautiful game that's easy to teach and showcases the frivolity and joy of board gaming.
Castles by the Sea just wrapped up their Kickstarter Campaign, so it won't be available for sale at Origins. But get in a demo if you're going to be at the show!
You can find Castles by the Sea at the Brotherwise Booth #1000 at Origins!
Origins Preview: Final Thoughts
There are so many great games to be discovered at Origins Game Fair 2022, and I wish I could touch on them all! But if I did that, I'd be late leaving to drive to Columbus for the convention!
If you're going to the Game Fair – have an awesome time! Share your favorite moments and great finds on social media so that we can all relish in the joy of gaming.