Gen Con is coming soon! Starting on August 4th and running through the 7th, many of the hottest hits of 2022 in board gaming are hitting the vendor floor, ready for us Nerds to enjoy. Between demos, playtests, previews, and releases, Gen Con is the best four days in gaming for a reason!
This is THE show to attend in the United States if you're a gaming nerd, and this year is no exception. Oftentimes, Gen Con is also the biggest convention as far as new releases and announcements, heralding in the next wave of hot 2022 board games.
Although I won't be attending Gen Con this year, thanks to a new little gamer in my household, I'll be living on vicariously through social media and other attendees who have their boots on the ground. There are plenty of things to prepare for ahead of time if you're attending Gen Con, so check out our list of convention safety tips. Also, here's a link to the Gen Con Exhibit Hall map to plan out your days so that you don't miss any of your favorite publishers.
Heading to Gen Con? Here's my Top 7 list of the board games you should be on the lookout for. They'll probably go fast, so this can serve as your de facto shopping list for some of the hottest board games of 2022!
In no particular order, let's kick things off!
Evergreen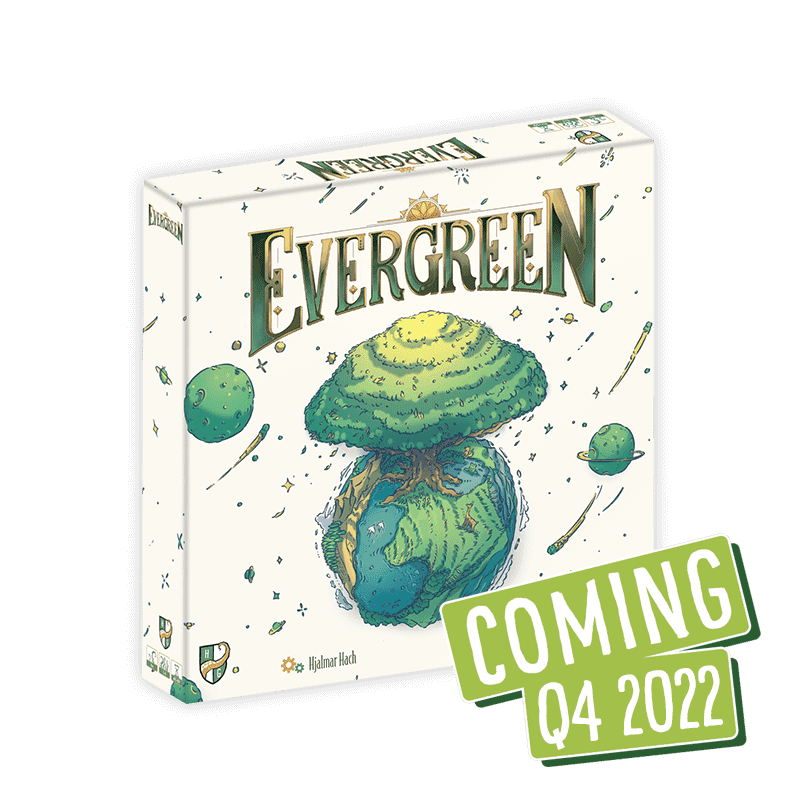 When I first saw the announcement for Evergreen by Horrible Guild, my initial thought was that this was just the Photosynthesis board game. You have a sun that moves around the board, you're growing trees…I just didn't see much of a difference. Well, it makes sense because the designer of Evergreen is the same as Photosynthesis: Hjalmar Hach.
Further inspection reveals that there is plenty different about the game, even if the theme is similar. For one, Evergreen focuses on different Biomes and growing your trees in fertile areas for them to collect that precious sunlight. The game is also card-based, granting you access to Powers and effects while impacting which regions are fertile.
Taking care of the planet and working towards electing officials who take climate change is very important, and so I'm appreciative of the theme to help promote that idea. In addition to Evergreen being made relatively sustainably, the game supports the Trees for the Future organization. That's a cause that needs to shine.
You'll be able to check out Evergreen at the Horrible Guild Booth #166 at Gen Con! Official release date is Q4 2022, so I'm assuming there's only the possibility of a demo at the convention.
Turing Machine
I was fortunate enough to see a sneak preview of Turing Machine from Hachette Boardgames while I was at Origins in June. It's a competitive deduction game, and the latest by Le Scorpion Masqué. The game features punch cards, which were used in the early days of computing to run programs. You'd have stacks and stacks of these cards, and you'd run them through the computer in order to get your results. And if one of them was out of order…oh let's just not think about that.
In Turing Machine, you'll be attempting to crack a code by overlaying 3 cards. Then, you pass those cards over to the machine and interpret the rules. The computer will be giving you confirmation about your guesses, slowly revealing the answer. That is, if you can crack the code!
I love the table presence, the punch cards, and the game box. Plus it's a tough puzzler that will put your brain on the back burner and turn the heat all the way up to 11. Deduction games like this keep your mind in tip-top shape, and they're the type of games that Le Scorpion Masqué does so incredibly well.
You can find Turing Machine at the Hachette Boardgames Booth #2109 at Gen Con! You can preorder on the Hachette site and pick up your game at the show.
Starship Captains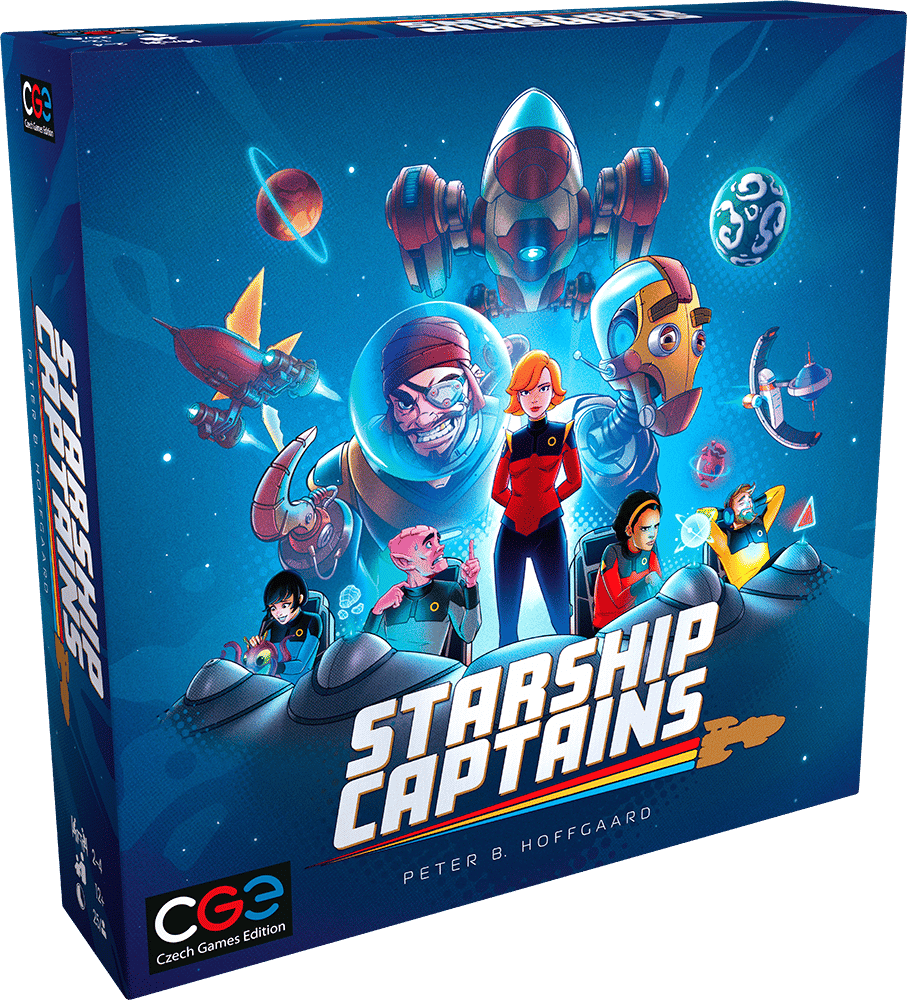 The first of two space-themed games on this list of Gen Con board games, Starship Captains is a euro-style game published by Czech Games Edition. Assume the role of a starship captain, embarking on a journey with your crew on your quest towards adventure.
Over the course of the game, you'll be exploring the galaxy in order to complete missions and upgrade your ship. As your crew trains up, they'll be even better at their individual roles. You don't want that bucket of rust to just lazily glide through space forever when it breaks down, right?
Honestly, this is about as much as I know about the game. There are miniatures, dual-layer player boards, tokens, cards, and more, meaning that there is a lot going on. It almost seems like it's Wild Space 2.0, with a much higher level of complexity. And I really enjoy Wild Space!
You can find Starship Captains at the Czech Games Edition Rooms #235-239 at Gen Con!
Wormholes
Wormholes, designed by Tiny Towns creator Peter McPherson and published by AEG, is a board game about creating wormholes in space. If you're not familiar with the concept of a wormhole, it's essentially a slipstream/teleportation gate that allows you to quickly zip from one place to another. In the game, you are trying to build a connected network of wormholes so that you can deliver passengers all over the vast depths of the great beyond.
I'm a sucker for big, interconnected tiles of hexes ala Gaia Project, which is something featured in Wormholes. Although the game plays quite differently. As you're flying around space, warping through a wormhole will negate the need to spend energy for the move. If you're able to deliver passengers to a wide variety of planets, that will score you bonus points, so you'll want to maximize that movement as much as possible.
However, you'll also get points when other players use your wormholes. When in doubt of what to do on your turn, just drop a wormhole! You might be glad that you did!
I also appreciate that there's a solo variant in Wormholes. That always bumps up my interest because sometimes I just like to grind out a board game by myself and try to beat my previous high score. Are you logging your board game plays?
You can find Wormholes at the Alderac Entertainment Group Booth #801 at Gen Con!
Crescent Moon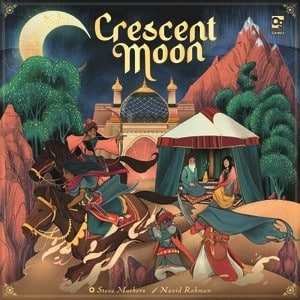 Crescent Moon, by Osprey Games, entered my radar after it was covered on the Lord of the Board channel. If you aren't familiar with Lord of the Board, then you should definitely go check it out and give a sub over there. Tons of great video content, much of which is centered around asymmetric board games like Crescent Moon.
Each of these Factions has their own unique abilities and powers, meaning that there's plenty of opportunity to specialize and become a master of each Faction in the game. There are also many different hex groupings that will have an impact on the gameplay right away at setup, lending themselves to the playstyles of certain Factions as well.
This is a heavier strategy game where the player actions almost always benefit other players as well. There's a social aspect of the game where you can try and influence other players to hopefully take actions that will be to your advantage as well.
I'm also really intrigued by the Market mechanics, because the coins you spend to buy cards from the Market go to the player that owns those cards. Something to keep in mind is that Crescent Moon plays only at 4 or 5 players. So this game is designed for people who can get together with gaming groups with some regularity so that it doesn't just gather dust on the shelf.
You can find Crescent Moon at the Opsrey Games Games Booth #2744 at Gen Con!
Final Girl
Having just collected the Dice Tower's Solo Game of the Year award, Final Girl by Van Ryder Games was ALL the rage at Origins, and supply was limited. This game is a little bit different than the others on this list because it is strictly a solo experience. That's right – you won't be able to play this with anybody else at the same time!
The premise in Final Girl is that you're the star of a horror movie. If you can eliminate the killer in each different scenario, and survive to the daylight, you'll be victorious! Designers AJ Porfirio and Evan Derrick have confirmed that this experience was always intended to be a solo one, and that they stuck to their intentions by not expanding it beyond that.
Even still, Final Girl retains a very high user grade on BGG, meaning that people find the game to be unique and impactful. There are also several different Feature Film boxes that have different antagonists, so you can survive all many of horrible situations!
You can find Final Girl at the Van Ryder Games Booth #2949 at Gen Con, along with the different Feature Films boxes.
Green Team Wins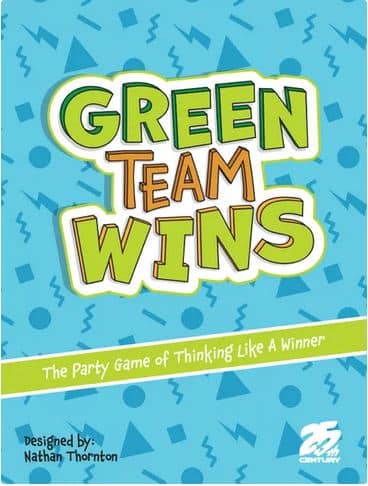 And I couldn't close out the list without including a party game! My monthly gaming group loves to dabble in a new party game like Green Team Wins, a new title from 25th Century Games. I actually heard a lot of buzz around this game at Origins, so that's why I wanted to be sure to spread the love in the Gen Con preview article.
In Green Team Wins, players are sorted into two teams: Green Team and Orange Team. And then, well, the Green Team wins. That's really all there is to it. But you're probably thinking, what happens if I don't get onto the Green Team from the beginning? Why should I even play?
Over the course of the game, you can get yourself put on the Green Team! Everybody gets asked the same question, regardless of team, and then everybody writes down their responses. If you have the most popular answer – that is, the answer that most people wrote – you'll join the Green Team and score some points.
So just get onto the Green Team!
I grew up playing Balderdash and The Game of Things, so I am no stranger towards games of writing down answers. The key to this one is that you need to put yourself in the heads of the other players while the other players do the exact same thing. Put on your imposter shades and follow the crowd to get on the Green Team and WIN.
You can find Green Team Wins at the 25th Century Games Booth #1457 at Gen Con!
Gen Con Preview: Final Thoughts
There are so many great games to be discovered at Gen Con 2022, and there certainly isn't enough time to get to all of them. Hopefully this gives you a jumpstart on your last-minute convention planning!
If you're going to Gen Con – have an awesome time! Share your favorite moments and great finds on social media so that we can all relish in the joy of gaming.