Steamforged Games recently announced an upcoming Elden Ring: The Board Game that will be released through a future Kickstarter campaign. If you've followed Steamforged Games at all, you know that they are constantly in the conversation when discussing gorgeous miniatures, as evidence by some of their other products like Epic Encounters or Adventures & Academia.
It's important to note that this isn't the first foray into popular IP board games for Steamforged Games. We've previous written about the Horizon Zero Dawn Board Game and the Resident Evil 3 Board Game here at Nerds on Earth, so check those out if you want to see some examples of minis pulled from a digital universe.
Elden Ring: The Board Game is designed for 1-4 Tarnished players as they venture through the Lands Between. There's promise of familiar locations and enemies that will be directly pulled from the highly-acclaimed video game, Elden Ring. Combat in the game will be dice-free, taking away the randomization of dice and opting in favor of adjusting strategies to defeat your foes.
Despite having not played games in the Dark Souls series before – at least not to completion – I was pleasantly surprised at how impressed I was with the Elden Ring video game. There were intense challenges, deft puzzles, and immersive lore that has firmly planted Elden Ring up with my favorite video games of all time.
If you aren't familiar with Elden Ring, you might have heard of the Dark Souls series from the same studio. The games are notorious for their high difficulty and unforgiving encounters, so you can expect that the Steamforged Games version of Elden Ring will be in a similar vein. As luck would have it, Steamforged Games previously released Dark Souls: The Board Game, so they're quite familiar with the mechanics and translating the feel of the video game to the tabletop.
Recently, Steamforged Games made the Dark Souls miniatures from the board game available as standalone purchases to assist in the promotion of their Dark Souls Roleplaying Game (RPG). Since Elden Ring is a similar game, we thought it would be nice to give you some detailed information on those Dark Souls RPG miniatures so you can get a sense of the quality that we'll be expecting from the Elden Ring: The Board Game Kickstarter.
Here are the products that we'll detail out below:
Silver Knight Greatbowmen
Hollow Crossbowmen
The Silver & The Dead
Unkindled Heroes Packs 1 & 2
Guardian Dragon
Elden Ring: The Board Game: Let's Look at the Dark Souls RPG Miniatures
We have a lot of Dark Souls miniatures to cover, so let's jump right into it, starting with the Silver Knight Greatbowmen! These miniatures feature thick, chunky greatbows complete with massive projectiles that are more akin to spears than arrows. This is an armored miniature, so break out those metallic paints as you work through chainmail and layered platemail. You'll also get a chance to perfect your cloak-shading techniques with the backside of the miniature.
Overall, this is a really excellent starting miniature for someone new to the hobby because of the variety of textures and surfaces that you get to paint: armor, cloth, and wood. Plus you don't have to paint any eyes, which is my worst miniature painting skill!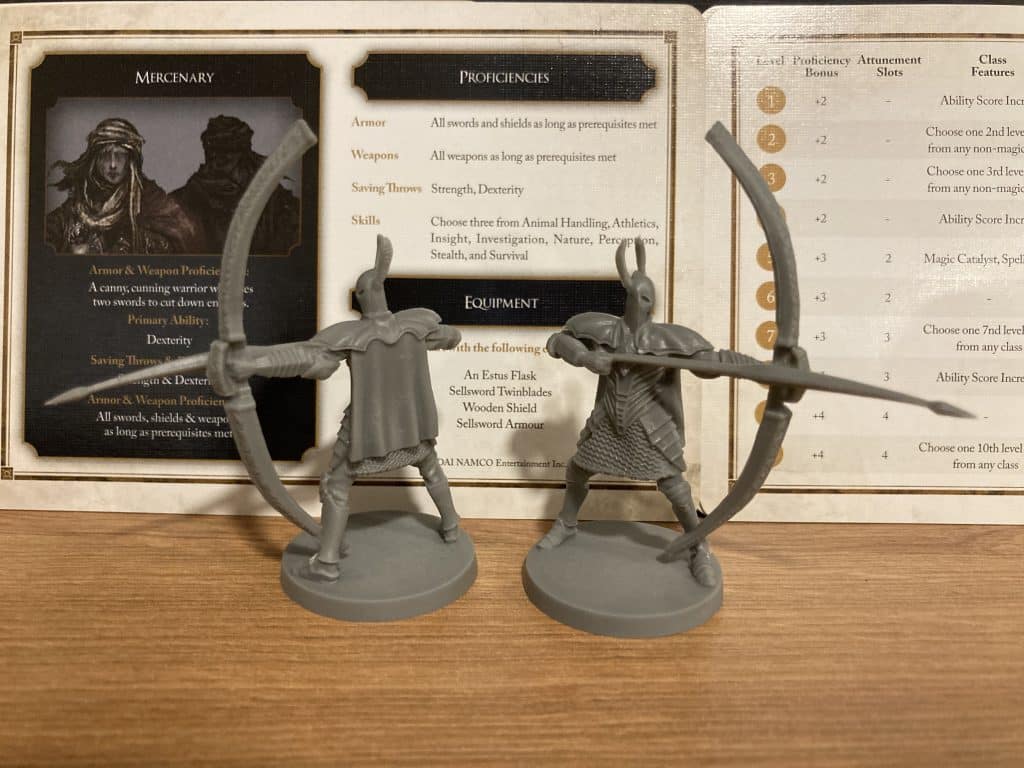 Next up are the Hollow Crossbowmen. Hollow refers to the zombie-like figures in the Dark Souls universe, which makes this miniature pocked with torn fabric and rotting flesh. There are several layers of clothing to paint, along with the crossbow and Hollow skin.
I actually found this miniature to be difficult to paint because of the structure of the layers. There's a layer of chainmail against the skin, followed by a shirt and armor. But it's honestly sort of a mystery how some of the layers fall, so I should have looked up a reference photo to get a better idea. This miniature is small and intricate, and favors a steady hand.
Now let's combine the two sets of miniatures for The Silver & The Dead set! You get two Silver Knights and two Hollow Soldiers to paint, which are variations of the Crossbowmen and Greatbowmen referenced above. The Silver Knights trade in their bow for an intricately-engraved shield and greatsword, while the Hollow Soldiers ditch the crossbow in favor of a round shield and blade.
I really like the shields on both of these miniatures, because they aren't just your standard wooden shield rimmed with steel. This allows you to customize your miniature with your interpretation of the runic symbols and whatever color scheme you pick out for the various fabrics. On the Silver Knights you may have some trouble pushing that brush between the armor and the shield, but the stance of the Hollow Soldiers is a perfect action-pose for paints.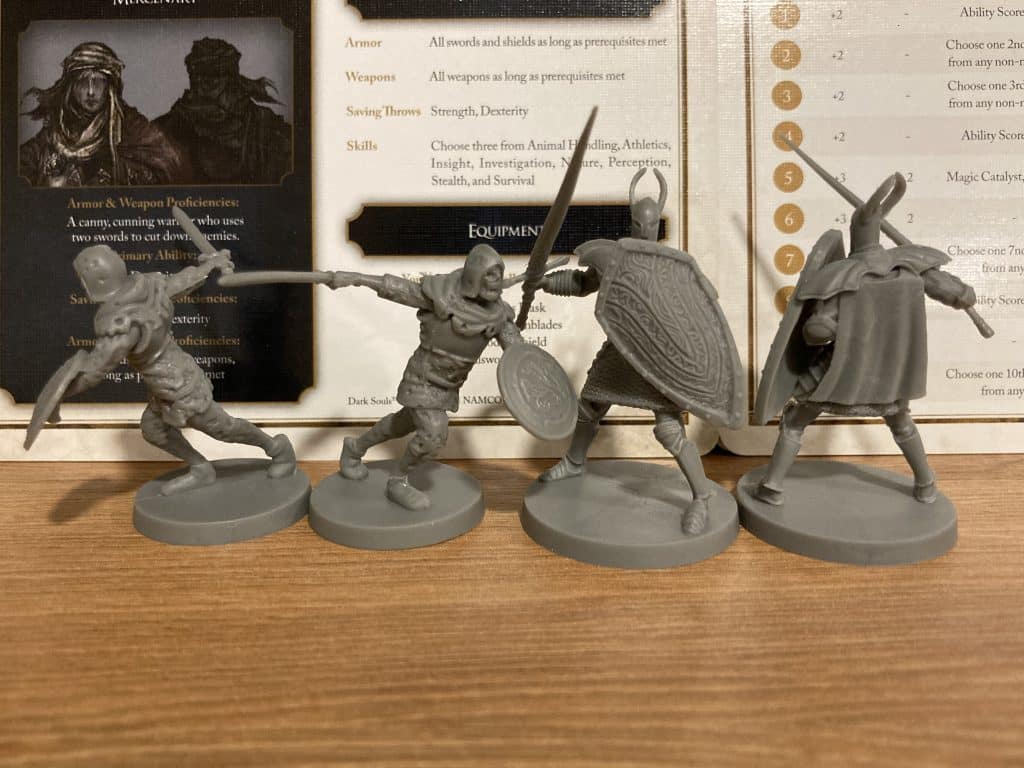 Onto the Unkindled Heroes Packs! Pack 1 comes with the Knight, Warrior, Assassin, and Herald miniatures, each using their own martial weapon. All of these miniatures would be perfect for your fantasy RPG characters in any evergreen fantasy game. I also appreciate the spacing between the components, as the only real painting challenge will be some of the tighter spaces on the Knight miniature up by the raised arms. The Warrior miniature is one of my favorites of the set, holding out the halberd wide while their cloak billows towards the opposite side. Exceptional.
Unkindled Heroes Pack 2 features six miniatures: Pyromancer, Cleric, Thief, Sorcerer, Mercenary, and The Deprived. This might be the best pack for you to pick up if you're looking for a variety of character miniatures, as you have a hooden figure, roguish figure, and even a triumphant axe-wielding hero. If you want more swords, Pack 1 will be your friend, but you certainly can't go wrong with the pair. The Pyromancer is my favorite here, with lots of detail and a powerful stance.
Last up is a single miniature in the Guardian Dragon box. This one stands on a large 110mm base and requires that you assemble the wings and tail to the body. In some cases it's easier to paint separate parts prior to assembly, but the spread wings of this draconid miniature ensures that it won't be a challenge to paint after it's all together.
And wow – this is one awesome dragon miniature! It features a huge open mouth with plenty of teeth to cover in a gradient of goldenrod dental plaque, and dozens of sharp spikes along its spinal ridge. All of the key features of the miniature are spread out enough that I would say this makes for an excellent 'starter dragon' miniature. You'll be able to practice your scales shading, plate-like chitin, and extended claws. Additionally, the eyes are big enough to be forgiving in your experimentation.
It can also be easy to miss, but be sure to check behind the spooky backdrop of the box for a sleeve that contains Stat cards for the Dark Souls miniatures! I almost threw the boxes away before I saw them listed on the contents, so don't make that mistake! If you're using these Dark Souls miniatures for their intended purpose – the Dark Souls RPG – then these will be invaluable little aids for you.
Join the Board Gamers, As Family!
If the Dark Souls RPG Miniatures are any indication of what we can expect from Elden Ring: The Board Game, I think it's safe to say that this might be a Day 1 backing for me! Even if it's just for the miniatures alone, I can't wait to see the detail on someone like Godrick the Grafted or maybe even Rykard: God-Devouring Serpent!
We don't have exact details on the Kickstarter launch date yet, so we'll just have to sit tight. In the meantime, you can sign up to be notified of the Elden Ring: The Board Game Kickstarter Launch by following this link.
See you in the Lands Between, Tarnished.
[Disclaimer: Nerds on Earth was supplied a copy of several Dark Souls miniatures products from Steamforged Games in exchange for an honest review.]