For Christmas, my fellow Earth Nerd writer, Jason, sent me three trade paperbacks of some of his favorite comic stories of 2015.
He has an amazing eye for story. The trades he sent me are not the basis of that statement, only further proof thereof. His appreciation for and recognition of great storytelling is why he's our go-to guy for TV show and movie reviews. He is not easily entertained, so when he says something is good you ought to take note.
And Low by Rick Remender with artist Greg Tocchini is good.
A Review of Low by Rick Remender: A Quick Synopsis
The sun is approaching supernova status, and with its increasing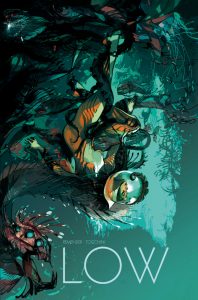 diameter comes increasing danger to surface dwellers. To preserve life, humanity submerged beneath the seas over 10,000 years ago to escape the high levels of radiation.
The air has been recycled to its limit and is slowly becoming stale and toxic. Most of the remains of humanity have given up hope. They've resigned themselves to death and fill their lives with whatever sensual pleasures they can afford – mostly drugs and sex.
Yet among them lives one Stel Caine; an optimist of the highest degree. While the world around her has slipped into existential nihilism, her relentless search for an alternative inhabitable world has born its first possible fruit: A satellite launched over 13,000 years ago she believes has locked itself into orbit around a habitable planet.
She calls it home, beckoning it to begin its decade-long traverse to Earth.
On a routine hunt later the same day, the submersible Stel is piloting is boarded by savages.  Her husband, Johl, is killed and her two daughters, Tajo and Della, are kidnapped.
Fastforward ten years. Her daughters' fates remain a mystery, yet Stel maintains her hopeful outlook. The probe she recalled landed on the surface of Earth, a place mankind has not set foot in a millennia.
Desperate not only to preserve mankind but to shake them loose from their resignation, Stel is granted permission to voyage to the surface with her son Marik who has also slipped into nihilism. But the surface is not the only danger that lies ahead. Between her home of Salus and the probe lie all sorts of dangers…including the savages of ten years prior.
A Review of Low by Rick Remender:Impressions
My gosh, I cannot recall a fictional world that so quickly sucked me in. The world of Low is overrunning with history and culture, and with each issue both are further developed.
Stel is the champion of hope for herself and everyone else, and is struggling on both fronts.  In truth, the narrative arc contained within the first six issues reads like an assault on her optimism – and that is what makes this series simultaneously depressing and beautiful. While Stel is undoubtedly under attack, she is also the only one still fighting.
I really don't want to spoil anything, but in addition to the world building that Remender and Tocchini accomplished, three things had me ordering Volume 2 immediately after I closed the cover of Volume 1.
1.  Tocchini's art.  Good Lord is it beautiful. His use of color, the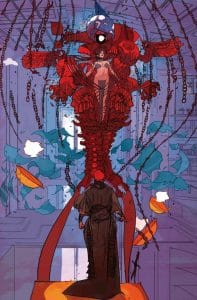 presence and even absence of lines, and his creativity and imagination when it comes to how the world and its inhabitants, environments, and technologies look are absolutely gorgeous.
Low has easily among my favorite visuals in the comic world. While stories can be effectively and movingly communicated without art, the comic medium provides that extra element and Tocchini delivers big time.
2.  The character dynamics are beautifully complex.  Stel has crazy depth of character developed in just six issues.  Optimism, desperation, resolve, and even bouts of futility and doubt come together in the beautiful package that is Stel and she is made real.  The world is in crisis but so, too, is Stel, and I found myself being way more concerned with her than with the entirety of the rest of humanity.  Marik's character arc is intriguing, too.  He is an unwilling participant in what he consider's his mother's suicide mission.  The loss of his family disenchanted him in major ways.
3.  So much work lies ahead for Stel. She and Marik are on their own. There will be no help from Salus (but perhaps from elsewhere).
Stel has set out to do that which has not been done in 1,000 years – reach and navigate the surface. She doesn't know what lies ahead for her and Marik, and yet she believes the probe worth the effort.
And even if they're successful, convincing the inhabitants of Salus of her findings will prove immensely difficult.
A Review of Low by Rick Remender: Final Thoughts
Low is definitely worth the read. And what's more: You can snag the first volume on Amazon for less than $10!
Given the quality of the narrative and art, that is pennies on the dollar when it comes to what you get. Do be mindful of the fact that the contents are rated M for mature and for good reasons involving the depiction of sexual acts, nudity, violence, and language. But Low is an unmissable story for adults.