This is about the most straight-forward post I've written in a while. I'm going to take a whole bunch of names that sound vaguely Medieval fantasy-themed or weird or something or whatever and simply share them in a big word cloud with very little in the way of formatting. It's a mess.
But if you are looking to name your D&D or Pathfinder character, you can just scan through with your eyeballs to perhaps find a little naming inspiration! All for the price of free.
Sure, I could've alphabetized or sorted via what I felt was race, but I opted to provide a big lump of names, hoping that the randomness of the whole thing would allow you to mash a few names together.
One final thing. I prefer short, straight-forward names. I don't want them to be difficult to pronounce, plus I want them to be easy to remember. So that's mostly what you'll get in this big name cloud. Now, what are you waiting for? Roll a new character and give them a name!
Need help naming your D&D character? Here's a skull-busting list of names!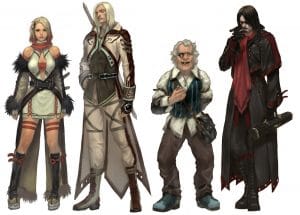 Fulgrim     Estrum     Malahi     Rhizor     Lamo    Tymus     Obol     Brunner     Heldane     Kula     Din     Pemberly     Adderfeld     Kara      Bodger     Khalid      Graven     Dunner     Commodus      Scaveleur      Macheles      Tanko-brey     Humbolt     Jonno      Tobius    Jokaero     Nilquist      Maxilla      Bonaventure      Clinton     Manley     Wigner     Uclid      Eemanda     Bonz     Wyn    Edden    Lise     Wylk    Bequin     Alizebeth    Godwyn    Sinias      Namber     Crote    Glaw     Gundrun     Modo    Roche    Arist    Rraey     Sharan    Cainen     Eneshan     Aten   Randt   Obin    Fronig    Szi    Seaberg
Scharf    Garbark   Chittock   Ankley    Harburn    Carnevale   Sammelin    Campbell   Jaspers   Rude
Consu    Benu   Olm    Pauling    Pohl    Empell    Lederman   Kant    Gell-mann    Wollstone    Gullstrand    Vaden     Vyutser   Roentgen   Jahn   Hio   Hu-Geln    Caelun    Kran     Esto    Mauna    Kea    Tamils    Covell     Omahg    Stross    Gamerans   Uptal   Catterjee    Murdin    Nilquist   Lowink    Rhyklin    Montlegum    Malathia    Phalastin    Scipio   Betancore    Roca   Fualla    Vibben    Shiga    Lores   Braavos    Nenrik     Aemos    Jarryl    Ryn    Altos    Patricio    Singeri    Efe    Coe    Emi    Nundos    Ham    Bynum    Kauri    Aristo    Jepeth   Slitherspear   Washtub    Shire    Wit     Darzzt    Troyer   Feyer    Hea (Hay)    Lottings    Loddings   Pavia    Tritio    Yubi    Sonor    Scarlett    Eskeen   Hurlie    Ebbathan   Nuern    Krislo   San    Crawley    Albaara   Brell   Bai'a   Pereira    Onsk    Cynewulf   Wrex    Kadmon    Bluthe   Berrak   Solveig    Lazlo    Alcala   Brixia | Brix (twins)    Bartelmew   Mombril    Diza    Sanaj    Sula    Mombril    Hakku    Valle    Arel    Traves    Jubies    Peor   Nada   Brandoor    Twane     Hansaard    Jaidyn    Xenos    Onsen    Rorken   Schongard   Peper   Molitor    Jeruss   Olias     Haseltine    Kadmon    Bronleewe    Beeson    Arbuckle    Yudkin    Wohler   Kibble    Primm    Zonn
Cotrell    DeGarmo    Oback    Bermejo   Antose   Siglin   Hidalgo   Risso    Hofstedt    Keplynger
Manhard   Whil    Petina    Elgin   Wonders    Windy   Hawthorne   Crawdad    Teesyn   Shacklefyord
Philmore    Denison   Kaney   Helmwood    Mottinsleeves    Logspitter   Gibberwish   Toln   Fowlton
Phantley    Solivar   Ernst   Casbah   Halloran    Trahan    Artimas    Jeaux   Gupta    Gagel    Najor
Osenga    Buell    Bragg    Roark    Latocki    Jardyn    Wyndehall   Hannier     Bricard    Vesperini
Rakoto    Delarue    Grogan    Charden    Erwann    Peps    Pascall   Lorde    Cozamel  Revere
Higbee    Petrellan    Kaiden    Malivoire    Goeh    Ortenbarge    Langeven    Cadger    Grieve
Grillin    Adonis    Feratti    Munch    Bokamper    Bucaro    Savahge    Grefe    Oedekerk   Hotton
Arbogahst    Mackin    Santis    Rathaus    Taverrrite    Helstrom    Kupher    Salemi    Crenshaw
Afterman    Kravitz    Saeta    Ziesmer    Crudup    Fedevich    Considine    Bruh    Reets   Arkie
Branko    Tomovik    Possa    Uriel    Emil    Omar    Eusibic    Bucossi    Farfel    Foust    Doering
Keone    Siglin    Smyj    Tacon    Vexler    Hunjan    Merchant    Preece    Milne    Southworth
Grogan    Mehmet    Godbold    Topham    Comminos    Wayment    Forster    Chopping   Irlam
Belaamin    Lasfe    Gouyd    Hadouch    Touki    Guiboar   Lemos    Maestre    Saentz    Raboso
Crowther    Crowsfly    Wyness    Catlett    Fonteroh    Cetrone    Carnel    Ginther    Bray
Braver    Dashnaw    Heartline    Kramme    Kypri    Kubr    Holloday    Hice    Ott    Smead
Lucken    Remer    Wilkney    Perlin    Goy    Elam    Antico    Purwin    Brubaker    Machleit
Ligget    Bryggmann    Haagon    Dillane    Oberfrank    Tufo    Groth    Linka    Imre    Nabil
Kutner   Janis    Lew     Alistare    Knowles     Labell    Sitarz    Tamras    Dashnaw    Graf
Estabrook    Dihn    Virzi    Nellee   Herzinger    Lashbrook    Braggs    Foglia    Goddale
Ogino    Bayona    Cabralas    Chesloff    Fauser    Forten    Lavina    Cavey    Loblaw    Clave
[ninja-inline id=10231]