Podcast: Play in new window | Download
Subscribe: Google Podcasts | Email | RSS
A panel discussion featuring Chris Perkins and Mike Mearls from the D&D team, recorded at Gamehole Con 2017.
Each year Dungeons and Dragons executive team–Mike Mearls, Chris Perkins, and Chris Lindsay–give a State of D&D Panel at Gamehole Con in Madison, Wisconsin. The Nerds on Earth team was present this year and recorded it so you could hear about how D&D is faring in the present and catch a glimpse of upcoming D&D storylines.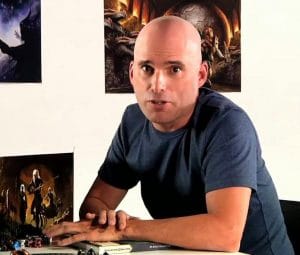 Mearls offered some great insight into the business of D&D and the overall health of the RPG industry. Even more interesting were some frank discussions about why certain material makes the cut and the design goals around it.
Chris Perkins offered insights into storytelling and the sincere desire to attract new players to D&D. Perkins also talked about the role of Twitch, live play podcasting, and social media in the modern D&D community.
Chris Lindsay talked about Adventurers League and organized play.
It was a wide-ranging discussion with interesting and engaging questions from the audience (including some from the Nerds on Earth team). We hope you enjoy it.
(Subscribe to all our podcasts in iTunes!)
---
This is a one shot. But typically, Nerds on Earth do our podcasts a little differently. We feature short run shows that drop all at once, Netflix style. Not only can you listen when you want to but you are also introduced to a variety of content.
But it is up to you to decide if you want more of a particular show. If a show meets a certain threshold in terms of downloads, shares, and reviews, then we'll know that you want us to make a 2nd season.
So if you liked this podcast or any of the others, it's up to you to let us know. Share the word, but also leave an iTunes review. If you ask for more, we'll line them up!