Podcast: Play in new window | Download
Subscribe: Google Podcasts | Email | RSS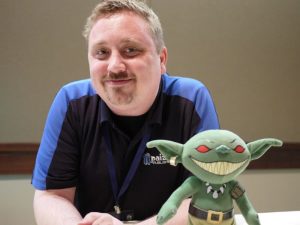 Nerdy Jobs features interviews with the creators behind some of the nerdy things we love. The mission of Nerdy Job is to celebrate the creativity and professionalism of some of our favorite creators, while being able to take a peek behind the curtain of their craft.
This episode features and interview with Erik Mona about Pathfinder 2nd Edition and the world of Golarion.
Golarion is the setting of the popular Pathfinder RPG.
Find more about Pathfinder 2nd Edition here.
---
Nerdy jobs is presented by Nerds on Earth. We do our podcasts a little differently. We feature short run shows that drop all at once, Netflix style. Not only can you listen when you want to but you are also introduced to a variety of content.
But it is up to you to decide if you want more of a particular show. If Nerdy Jobs meets a certain threshold in terms of downloads, shares, and reviews, then we'll know that you want us to make a 2nd season.
So if you liked this episode of Nerdy Jobs or any of the others, it's up to you to let us know. Share the word, but also leave an iTunes review. If you ask for more Nerdy Jobs, we'll line up more interviews with creators!