With The Last Jedi just a few days away, the excitement building around the latest chapter in the Star Wars universe is palpable. For many fans, a large part of the anticipation is due to the prospect of a new soundtrack by John Williams, the master of modern film scores.
Why not take a look and a listen at the soundtrack of The Force Awakens while we wait?
It isn't an exaggeration to say that hundreds of millions (possibly billions) of people know, or can at least hum, Williams' Star Wars themes. The films are packed with all-time musical classics:
And there are at least a dozen other famous and gorgeous pieces, themes, and leitmotifs from the series that are equally memorable. When The Force Awakens came out in 2015, it had been a decade since fans had gotten any new Williams Star Wars music.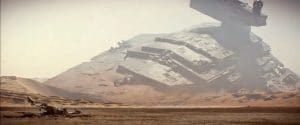 What did the Master have up his sleeves?  Let's keep it simple: John Williams did not disappoint (does he ever, to be honest?) The new characters and stories drove the genius composer to new heights and magnificent themes.
A quick listen yields some immediate gems:
There are deeper cuts that are just as beautiful and emotive. Ben Solo's theme gets its most majestic treatment in "Kylo Ren Arrives at the Battle," and this piece features another Williams trademark: stabbing, chopping strings that represent building tension or madness. "March of the Resistance" echoes the prequels, particularly the Trade Federation motif that plays in "The Droid Invasion and the Appearance of Darth Maul" from The Phantom Menace score.
My undercover favorite piece in the entire soundtrack might be "Torn Apart," which accompanies the hardest scene to watch in the film: the death of Han Solo. It proves the Master hasn't lost his touch for putting emotion into musical form. The individual beats of the scene—Han and Ben's terse talking, the one, heart-rendingly brief hope of redemption, the growing dread, Han's death, Chewie's rage) are reflected perfectly in a piece so lush you could sleep on top of those strings.
Whatever happens in The Last Jedi to Rey, Finn, Poe, Luke, and the rest of the Resistance, it's safe to assume that the soundtrack will measure up to John Williams perpetual, continual excellence. Expect a soundtrack review soon!