So, in my nerd cave, where my Dungeons and Dragons group gathers every week and my NerdsonEarth.com friends gather occasionally, I have a ton of space. While I have some excellent Ikea shelves for storage all around the room, there were moments where I felt cramped at our table. So my brother and I began talking about a dream scenario for a gaming table and were trying to figure out what would be some of the key pieces. Here are some of the things that made our list.
We wanted to easily and readily be able to show maps, etc to the whole party on a screen.
Room for 6-8 players with plenty of space to move around.
Some storage underneath.
Damage proof, meaning that we wanted it to be sturdy, substantial and spill proof as best we could.
So with that in mind, we dug around Pinterest and some Facebook groups and saw all kinds of awesome gaming tables that we could not afford nor did we have talent or patience enough to build. And as we talked about building out a prototype, we kept simplifying while refusing to compromise on our wish list. Here is what we landed on.
Building Our Gaming Table
We got a high grade sheet of 3/4 inch plywood. We debated on using a composite of some kind and while it would have been cheaper, we knew that if it got wet in any way, it would puff out and be ruined. We just didn't trust our ability to seal the material well enough to make that work. And because we knew our space well, we knew we could and wanted to make a 4 foot by 8 foot table.
Second, we bought a television. We wound up with an RCA that we scored from an online sale site. It is most definitely not a top of the line television but, honestly, for what we wanted it for, it was overkill. It is a 50 inch model, that has HDMI inputs, is relatively light, flat on the back side of the television and an LCD model. The LCD part is especially worth considering, as we knew we would box this in somehow and didn't want overheating issues.
At this point, we debated whether to build the television in a separate piece and case where it could sit on the table and ultimately we decided to embed it under the table top and have it rise to meet the deck. There was some debate about cutting a hole out that would make it smooth for a piece of glass that would be set into the table. In the end, we decided to have the television rise to meet the deck of the table but cover the entire table with a 4 foot by 8 foot piece of plexiglass. As we started thinking about things like what happens if someone spills something, having the whole table covered made more sense than a piece where a spill could get under the screen. Also, the plexiglass serves as a cover for the television screen. We put miniatures directly on the tabletop plexiglass above the television. It essentially serves as our map for our in person roleplayers.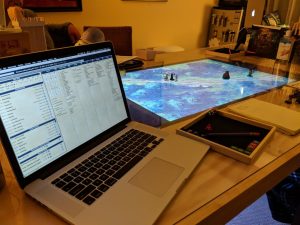 All of those decisions also helped us to minimize our cutting. We cut a hole for the television in the middle of the table (though we did toy with having it towards one end or the other of the table.) By placing the plexiglass over it all as one big sheet, we didn't have to get glass cut and we could use the existing finished edges. After the plexiglass was on, we attached finished grade 1X4 pieces all around the edge of the table, set at the height of the plexiglass.
For the base of the table, we used existing Ikea shelving units that we already had. It gives us convenient storage underneath the table that is pretty easy to access and it is sturdy enough to hold the table's weight without bowing the board. We used the older version of the current Kallax shelves, whose square cubbies make it excellent for stacking games and books and you can buy other bins that hold all your odds and ins.
Already Thinking About v2.0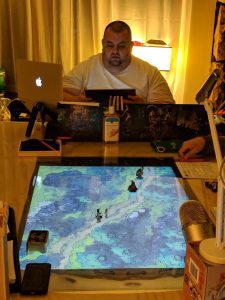 All in all, we are pleased with how the table turned out. There are a couple things we will want to address moving forward.
The plexiglass is good but it scratches pretty easily. We are talking about replacing it with glass long term, which we know will not be cheap. A 4 foot by 8 foot piece of glass can really add up.
We want to finish the table. Part of me wants to paint it white and use the plexiglass area like a whiteboard but I think it will look more finished with a nice black color. We also have talked about placing the character sheets of dead PCs under the plexiglass in the area that doesn't cover the television as tribute. No dead PCs thus far but seeing as how we are starting Tomb of Annihilation, that could happen soon!
Have you built your own gaming table? What ideas or improvements would you suggest for version 2.0?