When your neighbors get onboard about starting up a game night, the panic starts to set in. What sorts of games do they like? What games are we going to play? Is my Crock-Pot® macaroni and cheese recipe going to knock their socks off?
Everybody dives into the board gaming hobby at different levels. Sometimes we start off with simpler games and gradually work our way up to something more complex. Other people might jump in with both feet and try to tackle Advanced Squad Leader equipped with eight hours and a full bottle of ibuprofen.
Fear not, fellow internet traveler. I've got you covered with my personal 'best-of' list for my favorite games to get the party started. These are in no particular order – you'll have a blast with any of them.
Monikers
Do you have your ear to the ground with all of the hip lingo and pop culture references? We live in an amazing time where we're being bombarded with internet sensations and historical events like Nyan Cat and Beethoven (the dog, or the movie, or the classical musician).
Monikers is played in three rounds. Round one, players are trying to get other players to guess what's on their card. Simple enough, right? In round two, you'll use those same cards but this time you can only use a single word to get your team to guess the card. Lastly, in round three, you'll need to be completely silent and charade your way to victory.
Over the course of a game, your table develops these little inside jokes that may have nothing to do with the cards. Your memory and knowledge of pop culture is going to be tested to the limit in this hilarious game. I like to use it as a warm-up game if we're playing two or three, as it really helps people loosen up and keeps the laughs coming all night long.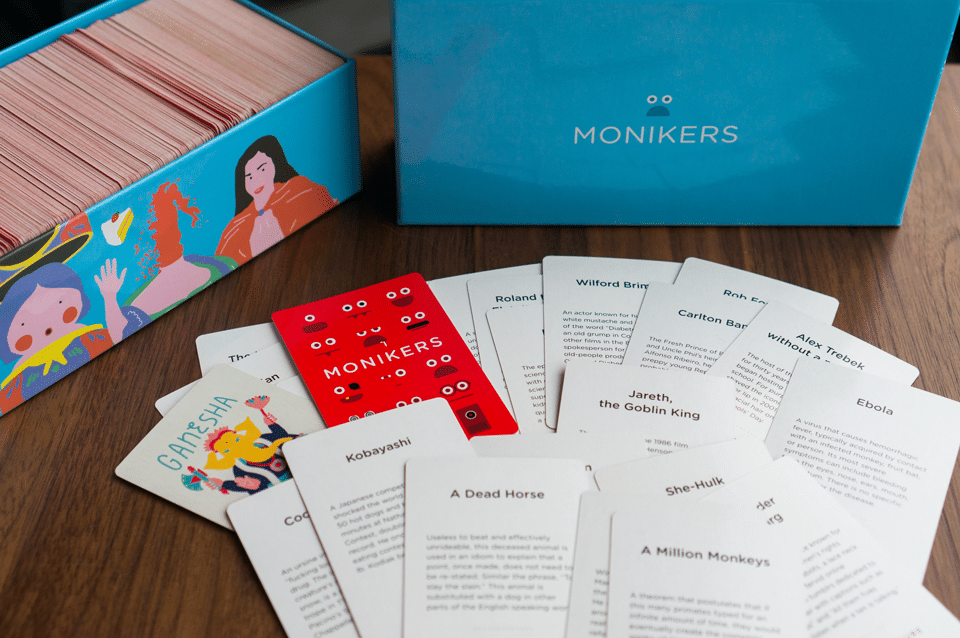 Monikers
Complexity: Minimal (1 out of 5)
Group Size: Any

Telestrations
Growing up, Pictionary was a staple. I'm not the best artist in my family, but I can usually draw something that faintly resembles a zebra if the need arises. Telestrations combines the simple drawing aspects of Pictionary and mashes it together with another classic verbal game, telephone.
Essentially, a player is going to spend some time drawing a word. The next player interprets the drawing and guesses what the original artist was trying to draw. They show this to the next player who then draws the guess. This cycle continues until the end of the line, at which point we reveal the monstrosity that usually doesn't even remotely resemble the original image.
Now, if you have a bunch of friends who are art students, art teachers, artists, painters, graphic artists, illustrators, or owners of a wine painting studio, this game will probably go much differently for you. However, for the rest of us lacking major artistic talent, buckle in because you're about to be taken for the wildest of rides.
Telestrations
Complexity: Minimal (1 out of 5)
Group Size: 4-8

Deception: Murder in Hong Kong
I had a hard time whittling this list down to include only ONE 'hidden-role' party game. There are so many good ones out there and it wasn't easy to decide. What I finally settled on is a fantastic blend of deduction and over-analyzing that will set any star poker player's mind in a tizzy.
There's been a murder! Someone among you is responsible for the crime, and it's up to you to solve the crime before the murderer slinks away into the sunset. Each player is given four objects and four methods of murder, and must interpret the incredibly vague clues to put the suspect behind bars. The most elegant part of this game is that the Witness can't reveal themselves–if the murderer is apprehended they are still able to win the game if they can correctly identify the Witness.
It's a terrific exercise of mental cat-and-mouse that changes every time you play it.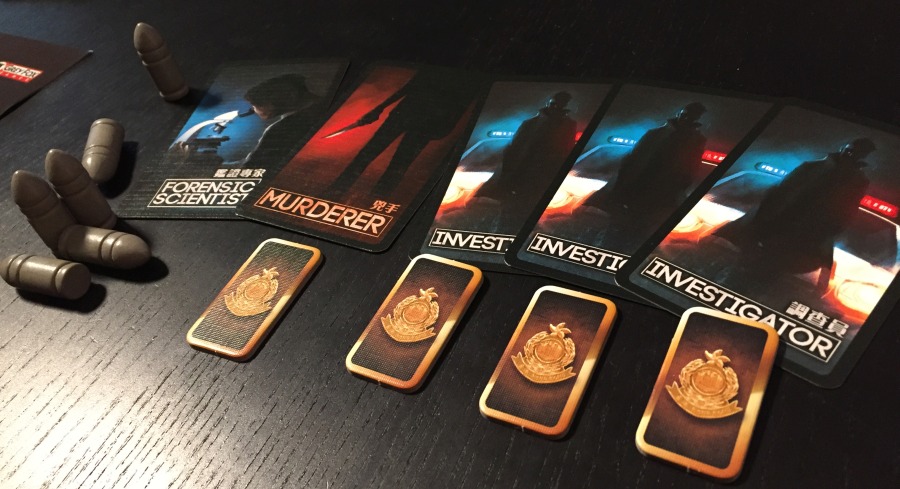 Deception: Murder in Hong Kong
Complexity: Minimal (1.5 out of 5)
Group Size: 4-12

Similar Games (Resitance: Avalon & Ultimate Werewolf)
If you're looking for a similar experience, Resistance: Avalon and Ultimate Werewolf are highly-touted games in the same genre. Whether you'd like a little more medieval fantasy or supernatural lycanthropes, both are solid replacements for Deception: Murder in Hong Kong.
Resistance requires a minimum of five players, while you can play Ultimate Werewolf with just three. Pick the game that's going to work best with your group.
Or just play them all because they deserve your love and praise.
Love Letter Premium
Next up is an expanded version of a game that I'd dub one of the best portable 'airport-ready' games on the shelf. Love Letter is a card game of cutthroat affection as players compete to get their love letters to the princess sequestered away in the palace.
Each player holds a single card in their hand, which represents a certain member of the royal court. They take turns drawing a card and playing a card; if you run out of cards, you lose. Whoever is the last player standing at the end of each round receives a token of affection from the princess, and play continues until someone reaches the predetermined number of tokens.
The premium version of the game expands the field to eight players. It also introduces several new members of the court to help keep the game fresh and engaging. Love Letter can be classified as a solid micro game to play quickly between rounds of other games. It makes the list because it's easy to teach and comes with high-quality components and card sleeves to make sure that your copy will please the princess for years to come.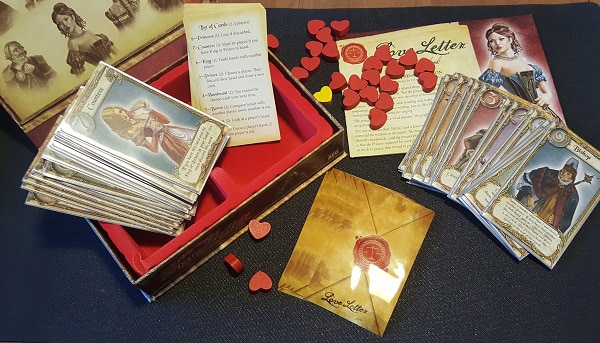 Love Letter Premium
Complexity: Minimal (1.5 out of 5)
Group Size: 2-8

Codenames
We've all shared a dream of being a spy. Actually, some of you might actually be spies, which is totally awesome. What better way to live out that fantasy than to assume the role of spies trying to crack a code before their rival counterparts?
Codenames is all about word association, memory, and deduction. Spymasters on each team alternate in giving single-word clues that refer to a specific number of tiles in front of the players. Their goal is to get their team to correctly guess their words without choosing the other team's words and without selecting the game-ending Assassin tile. 
It's absolutely grueling to sit back as the Spymaster and refrain from bursting out when your team starts going off on an unrelated tangent. How far do you want to push? How obscure can your clues be while still giving your team a chance to win? How can you get your team to guess HAWK without them choosing BIRD, ROBIN, or EAGLE? The challenge is real with this one.
Codenames
Complexity: Minimal (1 out of 5)
Group Size: 2-8

Mysterium (Dixit)
When a game comes equipped with a QR code to play spooky ambient sounds to set the mood while you play, it's immediately boosted in my personal rankings. Anyone designing based on thematics should take notes; this is how you really wrap the players up in the moment and transport them directly into the game.
Players take on the personas of psychics gathering together for a seance to piece together the series of events leading up to a murder. One of the players is the ghost, who can only communicate through the use of complex and abstract vision cards. As the psychics correctly interpret their visions of the culprit, location, and murder object, they get one step closer to uncovering the truth.
One reason why this game is so great is that it's cooperative; even though there is a certain level of individuality in working out your clues, everyone's input is welcome during the interpretation phases. At the end of the game, we're all going to win or else the ghost is going to be left with some unfinished business. The game benefits greatly from additional cards from both expansions (Hidden Signs and Secrets & Lies), so consider adopting those into your collection if you enjoy the game.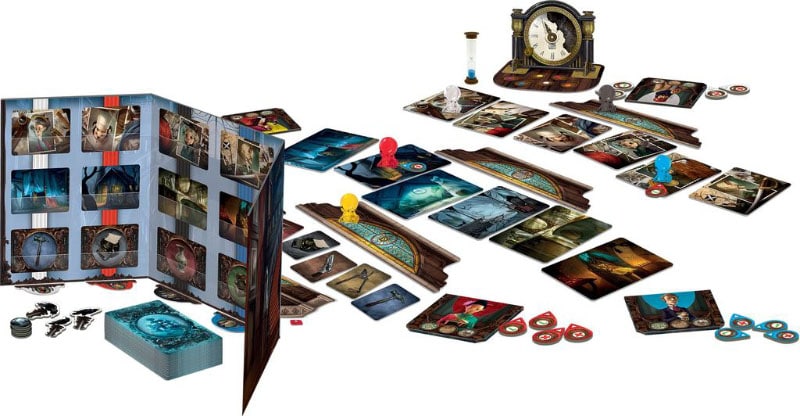 Mysterium
Complexity: Some (2 out of 5)
Group Size: 2-7

If you really like Mysterium, Dixit is another game that you could take out for a test drive. Games of Dixit are generally shorter than they're ghost-addled counterpart, and the pressure of doling out image cards is shared between everyone playing. In this way, Dixit keeps everyone involved in the game and limits downtime, which is always a plus when playing with larger groups of gamers.
Furthermore, the theme of the cards is more on the lighter side. The main reason why it takes a backseat to Mysterium is that the base game is capped at six players, whereas you can squeak in seven with the seance simulator.
Alternatively, I've seen people use the cards from both games interchangeably, which really enhances the variability between plays.
Sushi Go Party!
The texture of raw fish isn't pleasing for my palette. I like a little crunch with my lunch and sushi just doesn't fill that void for me. However, I'm always in the mood to put my tempura to the test with a game of Sushi Go Party!
Conceptually, this is a set-collecting card game with draft mechanics. Players pass around hands of cards (sushi trays), taking a single card to add to their plate before passing them along. At the end of each round, players are awarded points based on the sushi that they've collected. It's deliciously simple in its execution, and you'll fall head over heels for the art depicting everything from dumplings to nigiri.
There's a base version of the game that goes up to six people, but the party version expands the menu and offers tons more choices to pack onto your plate. It's light, fun, adorable, and an absolute delight down to the last bite.
Sushi Go Party!
Complexity: Minimal (1.5 out of 5)
Group Size: 2-8

Final Thoughts
My definition of an awesome party game isn't complex; I'm looking for a game that's easy to teach, offers player interaction, and is a blast to play. That last one is calculable in the number of laughs that echo throughout your living room.
I could probably write this article in another month and have a bunch of changes. Or maybe it would be exactly the same–who knows? There are so many great games out there that I would never be content to just play these in a rotation for eternity. Find the games that resonate with your group and enjoy them!