It's actually happening, y'all—Disney+ is real, and it arrives on November 12. The House of Mouse's entrance into the streaming wars is a landmark event in pop culture. With its low monthly price ($7/month or $70/year), incredible range of content, and the massive financial resources of the Walt Disney Company behind it—not to mention the built-in audience decades of cultural prominence brings—Disney+ will be an immediate hit.
Uncle Walt's newfangled streaming doodad is like the return of T'Challa, Spider-Man, and the other dusted heroes in the final battle in Endgame; all of our favorite heroes returning after years of absence from the public eye. (Depending on your point of view, you could also read it as Disney+ being like the all-conquering Thanos erasing all Disney content from other streaming services: inevitable.)
But as Ben Parker once said, "With great power comes great responsibility to highlight and bring long-forgotten properties to the public's eye through the magic of streaming video." Uncle Ben was right: Disney's Netflix-killer has the catalogue, pop culture cachet, and widespread appeal to revive movies, TV shows, and original content that has fallen into obscurity. The app can bring these properties to old and new audiences alike.
Here's the million-dollar question: What should be revived? Out of the thousands of live-action movies, animated features, and TV shows of every stripe that sit in Disney's cavernous vaults (which isn't going to last much longer, according to Bob Iger), which should be reintroduced to a new generation? I've come up with seven properties that deserve a second life on Disney+.
Something Wicked This Way Comes
This little-remembered gem from 1983 has a blue-blooded pedigree—its director, Jack Clayton, was an Academy Award winner with a career spanning back to the 1930s, the screenplay was written by science fiction juggernaut Ray Bradbury, and one of the two main adult actors is almost-EGOT winner Jason Robards.
The Pandemonium Carnival, a demonic traveling circus led by the sinister Mr. Dark, rolls into Green Town, Illinois and slowly wreaks havoc among its inhabitants. Two boys and several adults in the town must defeat the evil Dark by whatever means necessary. I remember this movie mostly for the spider scene, which scarred me for life while teaching me the valuable lesson of always checking my sheets before getting into bed.
Bug Juice
Perhaps the first reality show directed toward kids, Bug Juice takes viewers inside the idylls of Camp Waziyatah, Maine. This teen arcadia would be the setting for three seasons (1998-2001) of adventures, shenanigans, and bonding. Disney felt from the beginning that the show would be a hit, greenlighting the series without seeing a pilot episode, and their confidence paid off—the show feels remarkably natural in the advanced state of Bachelor/ette/in Paradise­-style shows we live with in 2019.
This show feels like a window to the past, a lovely tour of innocent summers and the excitements of youth. (By the way, if you'd like your kids to have a chance to experience this sublime summer camp, spots are open at Camp Waziyatah starting at a measly $4,950.)
Under Wraps
The decayed, withered grandfather of all Disney Channel Original Movies, this 1997 made-for-TV movie has a startling dark, sarcastic personality beneath all its outer coverings. Now that I think about it, this is a very obvious relative of everybody's favorite late bloomer/sometimes disturbing/Ice-and-Jay-should've-been-the-main-characters film, Hocus Pocus. 
Where else are you gonna find a murderous monster killing a dad with a whirling butcher knife he accidentally dropped into the garbage disposal in a sink in the first 3 minutes of the movie, or a bookstore filled with mummified human heads that's seemingly totally acceptable in this picturesque town? Not typically on the Disney Channel, that's for dang sure. And for a cherry on top, check this: our main mummy man is played by one Bill Fagerbakke, AKA Patrick Star from Spongebob Squarepants.
The Computer Wore Tennis Shoes­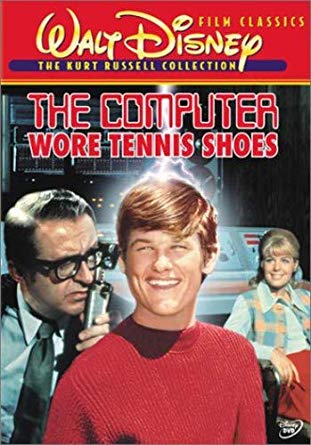 This quirky 1969 film is actually the first in a trilogy/shared universe of films Disney made in the late 1960s and early 1970s in which Kurt Russell (he of Santa Daddy fame) plays precocious college kid Dexter Riley to legendary Joker star Cesar Romero's mustachioed scene-chewing baddie AJ Arno.
It revolves around a simple premise: what if Kurt Russell got struck by lightning while fixing a computer and became a sentient version of said device? In this movie, that mostly means that young Dexter walks around making beeping sounds, learning languages instantaneously, and using his godlike Wikipedia skills to win his college $100,000 at a quiz bowl tournament. Man, this movie's so weird and I'm not not into it.
Disney's Adventures of the Gummi Bears
If you have fond memories of animated shows on the Disney Channel from approximately 1987-1997, you have this beloved 1985 classic to thank. The gooey ursine residents of Gummi Glen have an amazingly deep history filled with intricate machines and periodic wars with humanity stretching back centuries (seriously, the Great Gummis—the ancient ancestors of the show's bears who have fled across the ocean from human aggression—are basically Tolkien's elves gone to Valinor). 
The show is filled with creatures, medieval-era knights, witches, warlocks, and other high fantasy elements that wouldn't be out of place in Skyrim. Throw in a killer theme song sung by Joseph Williams (once the lead singer of Toto and son of the legendary John) and you have a show so successful that it led to future hits like DuckTales, Chip 'n Dale Rescue Rangers, TaleSpin, and Gargoyles.
Motocrossed
Do you want your Disney channel with a healthy dose of XtReMe TeEn life from 2001? Do you long for the days when motocross was mildly popular, enough so to warrant the characters in this movie wearing Fox and other associated labels without embarrassment in a DCOM (Disney Channel Original Movie)? Do you want a loose interpretation of Twelfth Night with a nefarious French villain that enters in the third act? If any of these hit a Venn diagram of your sweet spots, Motocrossed is for you.
Picture She's The Man with motorbikes and you're on the right track. Emo legends The Juliana Theory have a song on this DCOM's soundtrack; what more do you need to convince you of this movie's worth? 
A Goofy Movie
This is the most underrated Disney animated feature of the 1990s HANDS DOWN (possibly the most underrated animated feature in the company's entire nine-decade history). A 1995 road trip/buddy movie set in the universe created by Goof Troop, Goofy tries to reconnect with his teenage son, Max, by setting off for the fishing spot his dad once showed him. Max secretly co-opts the trip into a cross-country odyssey to get on stage with Powerline, his favorite musician.
Goofy and Max get into all kinds of crazy hijinks, including a run-in with Bigfoot and a visit to Lester's Possum Park, a truly nightmarish version of the Country Bear Jamboree. On top of all this, A Goofy Movie has an amazing soundtrack. Powerline's songs are performed by R&B teen idol Tevin Campbell and are genuinely great; you could easily play "I 2 I" or "Stand Out" at a 90s-themed mixer and nobody'd blink an eye. Come for the music, stick around for the great movie.
The beautiful thing about Disney+ is its depth. Disney is pulling on 90+ years of original content for the streaming service; when all of their recent purchases, ancillary properties, and acquisitions are added in, it's hard to justify not getting an account coming Thanksgiving. Disney+ looks to become the Death Lineup of streaming.