Chances are pretty good that comic book readers have at least heard of Brian K. Vaughn and Fiona Staples' science fiction comic series Saga. The ongoing series from Image began in 2012 and has been a critical darling from the beginning, winning almost every prestigious comic book award you can think. It even won the coveted Best Comic award from us in 2018!
Currently on a self-guided hiatus, fans who are behind the curve on Saga now have a great way to catch up. 
The Saga Compendium released early to comic shops this week and goes live on Amazon on Tuesday, August 27. The 1300+ pages collects every issue of the series to date. Image has given titles like The Walking Dead similar compendium volumes that can easily catch new fans up with the rest of us.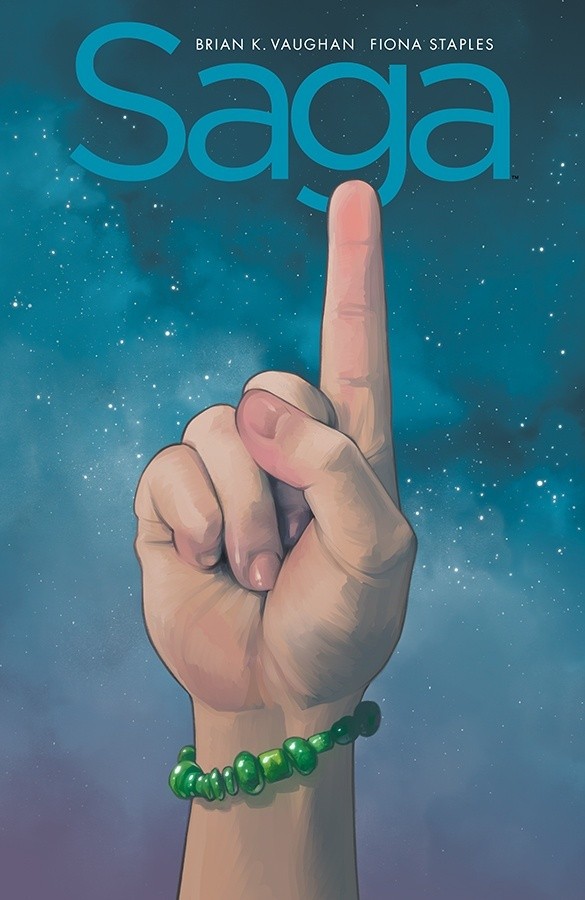 To the uninitiated, Saga follows the tale of Marko and Alana, star-crossed parents from opposite sides of a nasty galactic war. The two lovers have a child, Alana, who acts as the main narrator of the series. Deserters from the larger conflict, the family goes on the run, pursued by powerful and opposing factions.
I don't want to go too deep into the story because it unfolds in surprising and amazing ways. Each issue is literally treated as a chapter in the ongoing narrative of the story, so binging this comic series will feel like an evening watching your favorite streaming show. But it will be better than that, trust me!
Featuring a memorable supporting cast that stands out as one of the best in the medium, Saga will draw you in and never let go. Vaughn is a master storyteller, with each issue ending in a cliffhanger that will make the compendium a page turner. 
What's left to be said about the multi-Eisner winning series? Saga truly is leagues beyond almost anything on the shelves these days, a true modern masterpiece of the medium. It's mature, funny, and heart wrenching in the best way. Few comic books have the dramatic gravitas and pulse pounding thrills that Saga provides. 
Curious fans and longtime devotees can pick up the compendium from Amazon here or visit their local comic shops for a copy right now.
---
From the publisher:
THE ULTIMATE BINGE-READ Collecting the first nine volumes of the critically acclaimed, New York Times bestselling series into one massive paperback, this compendium tells the entire story (so far!) of a girl named Hazel and her star-crossed parents. Features over 1,300 pages of gorgeously graphic full-color artwork, including a new cover from Eisner Award-winning SAGA co-creator FIONA STAPLES. Collects SAGA #1-54.