I recently took a trip to Alaska, which was awesome in so many ways.  Although in a seemingly unlikely way, it reminded me of one of my favorite Lego sets that I own.
[divider]Reviewing Lego Set 60034 Arctic Helicrane[/divider]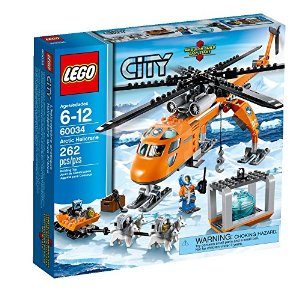 I purchased Lego set #60034 at Target, mainly because I thought the helicrane looked awesome, and well, it was on sale.  I can safely say that I am glad I did.
Lego set #60034has so many cool things in it.  The aforementioned helicrane is for sure a top notch Lego vehicle, and the rest of the set is just a good.  It includes a handmade Lego camera, snow shoes, a metal detector, two mini-figures, and a dog sled with the four cutest Lego Huskies you can imagine.
While some might assert that this set is age appropriate for ages 6-12, I say, "That is just something they have to put on the box." (Lego movie). The set will impress enthusiasts of all ages.  The snow shoes and metal detector are unique Lego pieces and the details to these is what makes them great.  On the other hand, the camera is a couple pieces that you must assemble, and that is one of my favorite things to do: to make objects of great detail out of regular Legos.  Speaking of, the dog sled itself is a whole extra vehicle, and is very fun to assemble, along with the dog harness.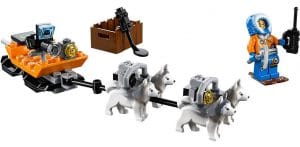 And those dogs, as we say in MinnesOta, O' fer cute!  Even my wife had to admit that the set was totally worth it because of the little huskies.  My cat is also a huge fan of bite sized dogs, go figure.
It is rare occasion that I consider the mini-figures an afterthought, but in this set, they are just that.  While the helicrane pilot has very cool outfit, he and the musher just don't compare to the rest of the details of this set.  Even with his aviator shades and flight helmet.  So, sorry helicrane pilot, this set is about the other stuff.
As previously stated, the Lego City sets are typically for the younger Lego enthusiasts, so the assembly is typically less time consuming.  Lego City sets also use larger more custom parts so that:
Kids can figures them out;
They lose less Legos in the process.
The helicrane has a hook and cable system to carry the sled on, but it is not motorized like other systems.  It's good ole, hand power.  The main propeller on the helicrane is also pretty fun to put together.  I very much like how Lego gives good detail to engines and propellers.
I was pleased to get the helicrane on sale, but even at full price, this is a very cool set, and would make a great gift for Lego enthusiasts a couple years removed from Duplos.