I don't know if you've heard, but we here at Nerds On Earth love podcasts. No matter what you want—fascinating interviews ("Fresh Air"), off-the-wall advice ("My Brother, My Brother, And Me), musical analysis ("Star Wars Oxygen"), or narrative history ("The Secret History of Hollywood")—the odds are that there's a podcast for you out there.
One of my personal favorites is "Stuff You Should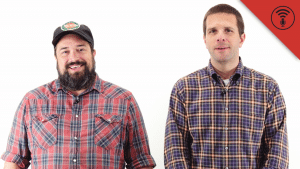 Know." Hosted by Josh Clark and Charles "Chuckers" Bryant, SYSK has been on the air since 2008 courtesy of HowStuffWorks.com. These guys know their stuff; each topic is meticulously researched, and even more info is posted on their website.
The show is just fun, too. Josh and Chuck are best friends in real life, and their camaraderie adds real charm to the fascinating topic of each episode.
But SYSK has been around for almost ten years, so if you're a little overwhelmed by the sheer number of episodes, look no further—here are seven great episodes to get you started.
The Top 7 Episodes of Stuff You Should Know (In No Particular Order)
Josh and Chuck put a couple of episodes out each week, so there are bound to be at least a few that grab your attention. Dive in and thank us later!