With the piles and piles of board games being released this year, you need someone to find the needles in the haystack. Based on a combination of BoardGameGeek's rankings, and my personal preferences, these are the Top 7 Hottest Board Games on Earth for Q1 2020.
Between Kickstarter and non-crowdfunded channels, it's impossible to keep up with the Joneses and board games. For real – I know a Jones and he's always getting new shelves to house these boxed beauties.
Take this list with a grain of subjective salt. I like to think my palette is varied when it comes to games, but we may have different tastes. If something catches my eye, I want to pass that onto you – the reader.
None of these games are released yet – they're mostly in various stages of crowdfunding or development. However, it's better to get your attention on them now, so you can work them into your gaming budgets for the year.
Grab your oven mitts because these are the Hottest Board Games on Earth!
Kanban EV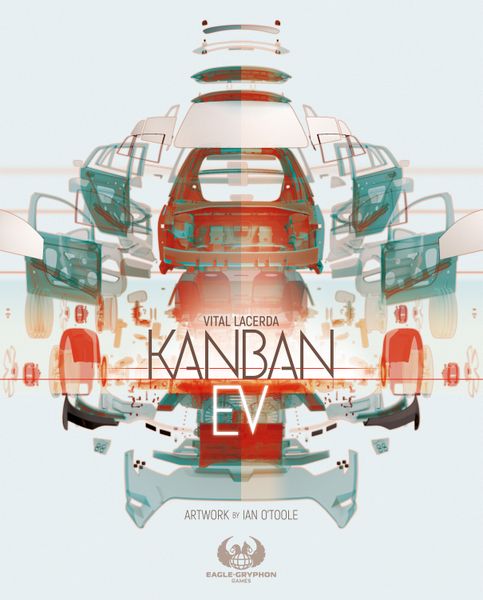 We're starting off the list with a heavy, euro-style game. Designed by Vital Lucerda, Kanban EV is actually a remake of the original Kanban from 2014. It puts you in the driver's seat, overseeing the production of electric automobiles.
Since I have experience working in a manufacturing environment and supply chain, the idea of kanban is very familiar to me. At its core, kanban is a scheduling system used in lean manufacturing to minimize waste, maximize throughput, and increase efficiencies.
In the game, you manage all parts of an automobile plant. This includes obtaining the necessary supplies to make the vehicles, conducting research, and building those cars.
Vital Lucerda is a highly-respected designer. He's known for designing games like On Mars, The Gallerist, and Vinhos, among others. This is a bright reskin of a game for people who really want to put on their analysis caps.
PARKS: Memories
I've written a lot about PARKS, and how it's a nice, relaxing game with beautiful art that keeps you coming back for more. Keymaster Games continues to delight us with their offerings.
Not only do we get an expansion for PARKS, called Nightfall, but we also get a series of three games under the PARKS: Memories umbrella. These games focus even more on the art from the Fifty-Nine Parks series for a strategic matching experience.
As you might expect, the game draws a lot of similarity from memory games; you flip over two cards and then take one, hoping to collect a set of three. Then, players place the hiker on a card, locking that card from being taken.
Where the strategy comes in is through the use of your abilities. These can allow you to have complex turns like keeping the hiker in the same location or keeping information hidden from your opponent. When you flip over two cards with matching icons, you refresh your abilities.
The Kickstarter for this one just wrapped up, bringing the same kind of buzz that accompanied the original PARKS launch.
LANDER
LANDER has been on my radar since last Gen Con. If you haven't read my full write-up yet, go on and take a peek to get an overview of the game. Better yet, see if there's a board game store or cafe nearby where you could get some hands-on experience!
You'll find elements of territory management, crew assembly, and negotiation in this snowballing engine-builder. Every decision you make impacts whether your corporation will be successful on this new planet.
Maybe I'm putting too much emphasis on this game, but I feel that it's important to give it a little more limelight ahead of the Kickstarter launch. Spoiler alert: it's tomorrow!
Check out the Kickstarter here!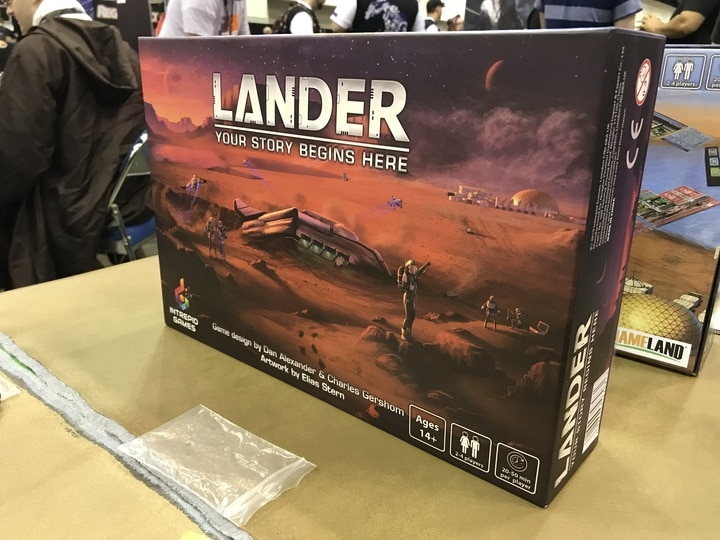 Marvel United
Unless you've been living under Thor's hammer for the past decade, you know how astronomically HUGE the Marvel franchise has become. CMON is the latest to capitalize on the successful IP with Marvel United.
There are a few things that draw me to this game, besides the Marvel logo. First, the game showcases the chibi art style, which is different than the typical comic-book style that you normally see with games using the Marvel theme. The iconography still nods to the comics, but it's refreshing to see.
Secondly, the game comes with miniatures of tons of your favorite heroes. Captain America, Iron Man, Red Skull…the gang's all here. Now, they don't seem to matter much from a gameplay perspective, but they will make great display pieces or minis for other games.
CMON is known for games like Blood Rage and Zombicide. Given their track record, Marvel United is at least worth checking out. I don't know about you, but I don't think I will ever suffer from Marvel-fatigue.
The Kickstarter ends on March 4.
Rival Restaurants + Back for Seconds
Rival Restaurants came onto the scene last year without a whole lot of fanfare. In fact, I'm not sure if I've seen a copy of it at my FLGS. Their expansion, however, is getting quite a bit of buzz. That's why it makes this list of hottest board games.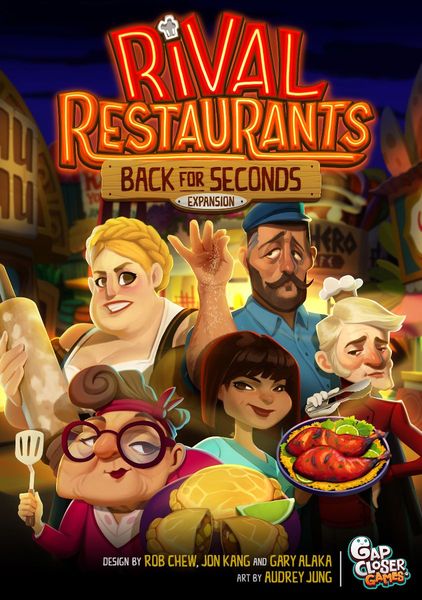 The base game is about players competing against each other to lead their restaurant to "gastronomical glory." Back for Seconds introduces additional chefs and restaurants to the original gameplay. It also brings an Event Deck which, as you would guess, impacts all players with a different effect each day.
From top to bottom, Rival Restauarants is oozing with theme. Everything just looks so tasty! It's bright, it's colorful, and it keeps the entire table engaged. Please don't try to eat any of the food pictured; they're just cards.
Kickstarter is the way of the board gaming world right now, and this is another game that found its life on the crowd-sourcing platform. There are just under two weeks remaining on the campaign at the time of this article. Take a bite!
Wonderland's War
The next game to make my list is Wonderland's War. There are a couple games that draw heavy inspiration from Lewis Carroll's Through the Looking Glass. I'm sometimes hesitant about games associated with pop-culture, because the theme tends to come first and gameplay second.
What intrigues me about this title in particular is the combination of mechanics featured therein. Touted as a combination of drafting, bag-building, and area-control, players attend the Mad Hatter's tea party before battling in Wonderland's War.
The game itself seems complex, but in a good way. I'm also interested in some of the push-your-luck mechanics. Wonderland is a wacky place, so I'm expecting an equally wacky game that brings wagons of fun to the table.
This one is also ending really soon, so check out some of the videos and information over on the Kickstarter page. With all of the miniatures and cardboard standees, it looks promising!
Rallyman: GT
Lastly, I'm ending this list right where it began: with a game about cars! This time, instead of manufacturing cars, you'll be putting on your helmet to roll and race around the track. It's Rallyman: GT!
I did a bit more research on this title, and it turns out that it's also a remake! This is a re-imagination of the original from 2009. This must be the year of the revamped car games.
The game features a modular track system comprised of hexagon tiles, which allows players to build their own tracks. Over the course of the game, players will push their luck. Taking corners too tightly can result in spinning out, and other obstacles can hinder your progress. It's up to you to determine how daring you wish to be.
Apparently the original game has a devoted following. This remake will allow that community to grow, ushering in a new age of drivers. Is anybody going to be doing driver's license verification?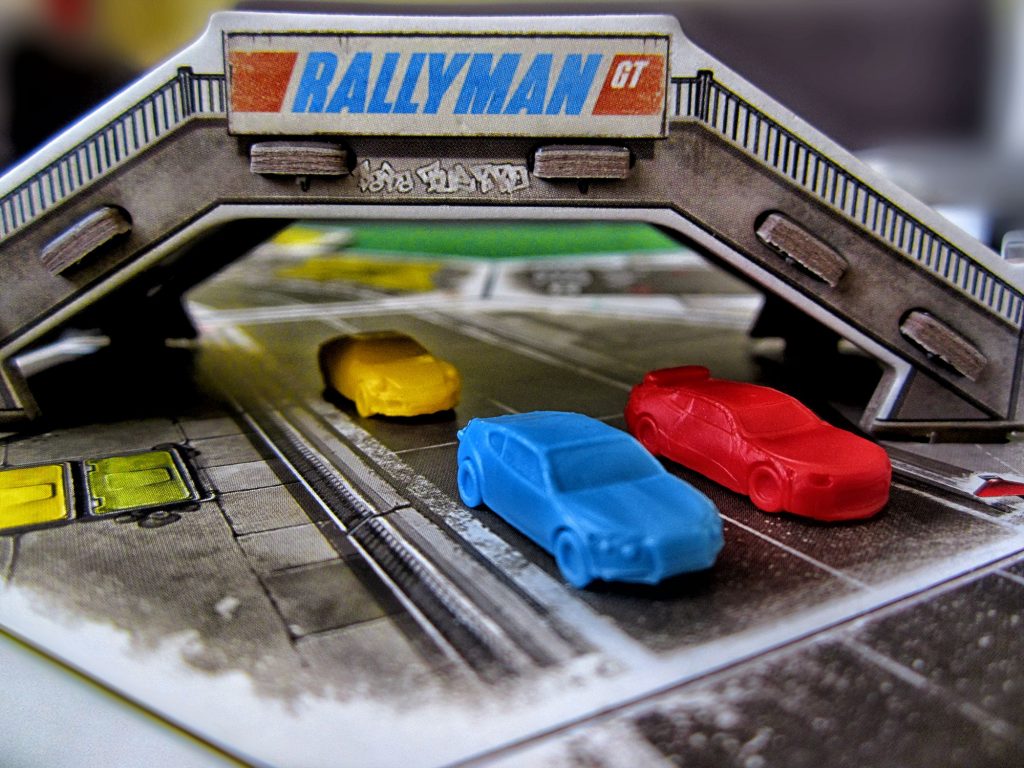 The Hottest Board Games on Earth
Like I said, there are more games coming out than I can possibly talk about in this list. These seven games are a sampling of what gamers are excited about so far this year. Hopefully a lot of them will be featured at conventions where you can see them up-close before buying.
These are my hottest board games on Earth right now. What games are you anxiously awaiting? Reach out to us on Twitter and let us know!
Happy gaming!