Welcome to this week's PUNCHLIST, where we round up the biggest news in nerd culture. It might be from the MCU, board gaming, D&D, and more. But whatever the news is this week, you can bet it will eventually separate you from your money.

7. Umbrella Academy Season 3 Announced by Netflix
The Netflix original series Umbrella Academy will begin production on its third season in February of next year, with the entirety of the main cast confirmed to return to their roles. The third season will feature 10 hour-long episodes, as did the first two. The second season of the show was Netflix's third most popular original series behind only Stranger Things and The Witcher in 2019.
+ More here: Umbrella Academy Season 3
6. Dungeons and Dragons Museum Coming to Lake Geneva
The 500 square foot exhibit will be entitled "A Legacy of Imagination: Gary Gygax and the Creation of a Culture," and is tentatively set to open in the spring of next year. The exhibit will be "refreshed" every few years, and will feature D&D merchandise on loan from collectors and updated histories of the game, its development, and Gygax himself.
+ More here: D&D Museum
5. Johnny Depp's Grindelwald to be Recast for Fantastic Beasts 3
Due to heavy litigation and controversy surrounding the star, Warner Brothers asked Johnny Depp to step away from the Fantastic Beast threequel and are on the hunt for a replacement. Colin Farrell played as a disguised Grindelwald in the first film and so seemed an easy choice, but he's tied up with The Batman which is still filming, so he's highly unlikely to return.
+ More here: Grindelwald Recast in Fantastic Beasts 3
4. Borat 2 Has Second Biggest VOD Premier of 2020
Coming in only behind Hamilton, Borat 2: Subsequent Moviefilm outperformed The Old Guard, Extraction, and even Mulan. The irreverent comedy debuted on Amazon Prime last month and outperformed Prime's My Spy, while both of those titles beat out Netflix's top earner (Extraction).
+ More here: Top 20 SVOD Releases of 2020
3. Female-Led Star Wars Series Will Feature a Lot of Martial Arts
Set in an alternate timeline and written by Leslye Headland, the new series remains largely without details, but a new report says it is "believed to be a female-driven action thriller with martial arts elements." Rumors alternatively speculate it to follow Ahsoka Tano (who will make her live-action debut in The Mandalorian season 2), Doctor Aphra, or a new character tied to the High Republic Initiative.
+ More Here: Female-Led Star Wars TV Series
2. First Two WandaVision Episodes Filmed Using 50s Sitcom Technologies and Techniques
To further capture the sitcom experience, the WandaVision miniseries filmed its first two episodes before a live studio audience, on older lenses, with older lighting, and favoring practical effects and tricks over CGI. There's even a laugh track! Sitcom legend Dick van Dyke was consulted for the techniques utilized, and the newly released images attest to the success of their efforts.
+ More here: WandaVision Filmed Using 50s Sitcom Techniques
1. Alex Trebek Passed Away at 80
Trebek suffered from and eventually succumbed to stage 4 pancreatic cancer, the diagnosis of which he announced in March of last year. He won 7 Emmys as the host of Jeopardy!, and holds the Guinness World Record for Most Game Show Episodes Hosted by the Same Presenter with over 8,000 behind the iconic podium. New episodes of Jeopardy! with Trebek as host will continue to air through the end of this year.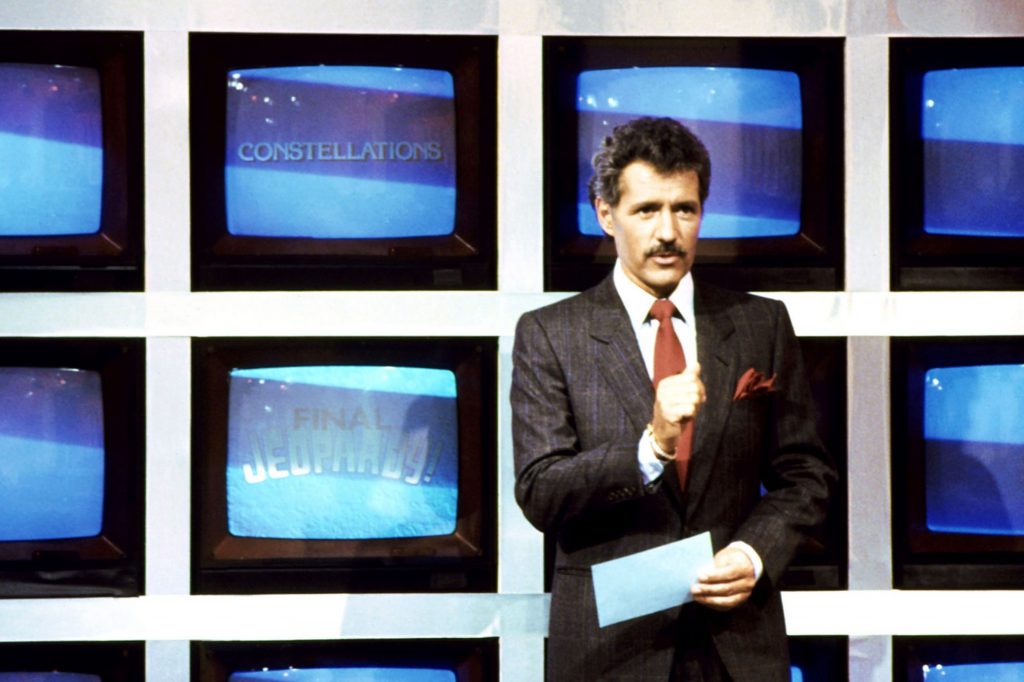 + More Here: Alex Trebek Passes
---
Check back next Wednesday for more news for nerds. And don't forget to catch Clave and Abram's Facebook Live breakdown of each week's news Wednesdays at 4:30pm CST!