Welcome to this week's PUNCHLIST, where we round up the biggest news in nerd culture. We highlight the tastiest morsel in some detail and then close you out with a link round-up.
Pandemic and Worldwide Box Office Records
COVID-19 has had some obvious and significant impact on the movie industry. Theaters shut down all over the country really early on, and many – if not most – remain closed. VOD and streaming-only releases took the spotlight and many films, still hoping for a proper theatrical release, kicked the can of their premiere further and further down the road. But not all.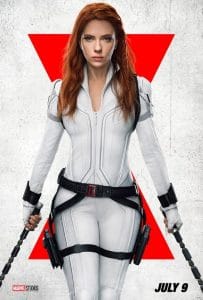 A handful of movies during this Pandemic Era still hit those silver screens – even as they released simultaneously on any relevant parent company's streaming service. Godzilla vs Kong just recently surpassed Tenet for biggest box office haul during the pandemic, cresting $60 million.
But an anime title just set two box office records.
Demon Slayer: Kimetsu no Yaiba the Movie: Mugen Train set the record for biggest foreign-language box office debut in US history – and this during the pandemic and with an inherently restrictive R-rating. It also usurped the long-held (since 2001) highest grossing Japanese film title from Hayao Miyazaki's Spirited Away.
Movies like Black Widow have postponed their premiere dates in the hopes that more theaters would reopen and they'd be able to capitalize on bigger box office hauls – even while offering same-day in-home streaming options behind the paywalls of their streaming services. Two paywalls if you count Disney+'s premiere access additional cost. But so long as you're watching it with at least one other person, the $30 price tag is more than competitive with current movie theater ticket prices. Plus, you don't have to smuggle your favorite snacks in in the many pockets of your carpenter shorts in an attempt to save a few bucks!
The established success of streaming has undoubtedly saved the movie industry. Had COVID-19 hit in the early 2000s, the story would be radically different with regards to the movie industry – and our sanities. But the theaters aren't done yet. New and even increasing box office records testify to as much.
The PUNCHLIST: More Notable Nerd News
+ Netflix Releases Trailer for Camp Cretaceous, Season Three
+ My Hero Academia: The Strongest Hero Mobile Game Coming to US in Spring 2021
+ Catch the Trailer for Ted Lasso, Season Two
+ Emilia Clarke Cast in Marvel's Secret Invasion
+ Preview the Newest Conan Comic from Ablaze Comics: The Cimmerian: The Man-Eaters of Zamboula
+ Leder Games is Looking for Usability Readers and Play Testers for New Root Expansion