Welcome back to MSF Mondays! Each week we break down one more aspect of the hottest mobile game, Marvel Strike Force!
At the reset tonight we get access to our next Marvel Strike Force character: Doctor Strange (Heartless)! If you drop money on the game like Ultron bots, then you probably already have Heartless Doctor Strange. But for the rest of us, get ready for the party!
The release method for Heartless Doctor Strange is a campaign event called Forbidden Knowledge. This is also the first campaign event since the blog post detailing a rework to the difficulty levels in campaign events going forwards. Technically there was a campaign event since then, but it was so soon after the blog post that we didn't get the updated difficulties.
Here's the blurb about the campaign event from the game:
"When a dark mystical anomaly draws Scarlet Witch and Agatha Harkness to London, they encounter a sorcerer from another world and embark on a quest across space and time."
If that doesn't sound like the multiverse shenanigans of Doctor Strange, then I don't know what does! Plus, if you've watched the What If? series on Disney Plus, you're actually already familiar with the Heartless Doctor Strange character. Go watch it if you haven't yet!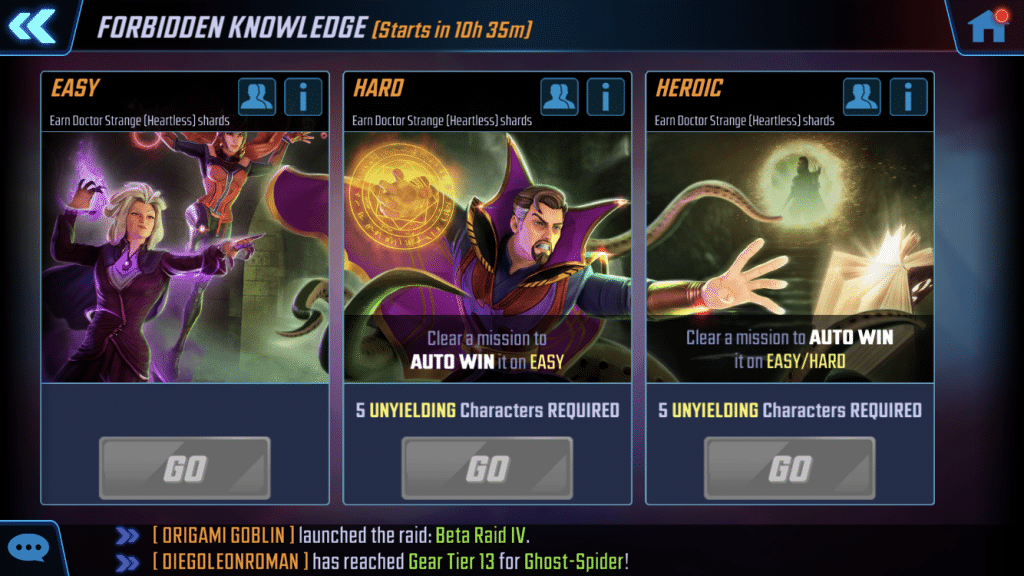 The Forbidden Knowledge Doctor Strange Heartless campaign event features three difficulties: Easy, Hard, and Heroic. Heroic takes the place of the old 'Hard' difficulty, and is designed to make the most difficult run of the Campaign Event more difficult. In the past you could basically breeze through the Hard difficulty without any trouble at all. That's all going to change with the new Heroic level.
All levels of the Forbidden Knowledge campaign event require toons with the Unyielding tag. This is a temporary tag specifically for the event. The recommendations for the Heroic difficulty level are Squad Level 85+, Gear Tier 15+, and Ability Level 6+. There are plenty of meta-level toons in the mix that you might be able to get away with slightly weaker characters. I'm hoping so at least!
My ideal team for this is going to consist of Gamora, Baron Zemo, Nebula, Lady Deathstrike, and Ghost. With that lineup, I get the Infinity Watch synergy between Gamora and Nebula, along with the quick-hitting Zemo .Because I lack any level 85 toons with this tag I'm hoping that Lady Deathstrike's damage can help end the battles before I get into trouble. And Ghost was a strong DD4 player for me, so she should provide some sustainability as well.
Other great toons to consider are Wolverine, Silver Samurai, Deathpool, Scarlet Spider, Spider-Punk, and a trio of Young Avengers (America Chavez, Kate Bishop, Echo). If you are going to use these toons, I recommend pairing or tripling them up with their like-tags to ensure the best chance at victory. That means keep your Young Avengers, Weapon X, and Web Warriors together.
We don't really know what to expect from this new Heroic Campaign Event for Heartless Doctor Strange. Usually the recommendations are a decent estimation of the power level needed to complete content in Marvel Strike Force, so I'm expecting more of the same with this one. Going forwards, this will be the recipe for campaign events.
Edit: After playing through the Heroic campaign with the aforementioned team, you don't need Level 85 toons to complete it. You just might not be able to Auto the first time around!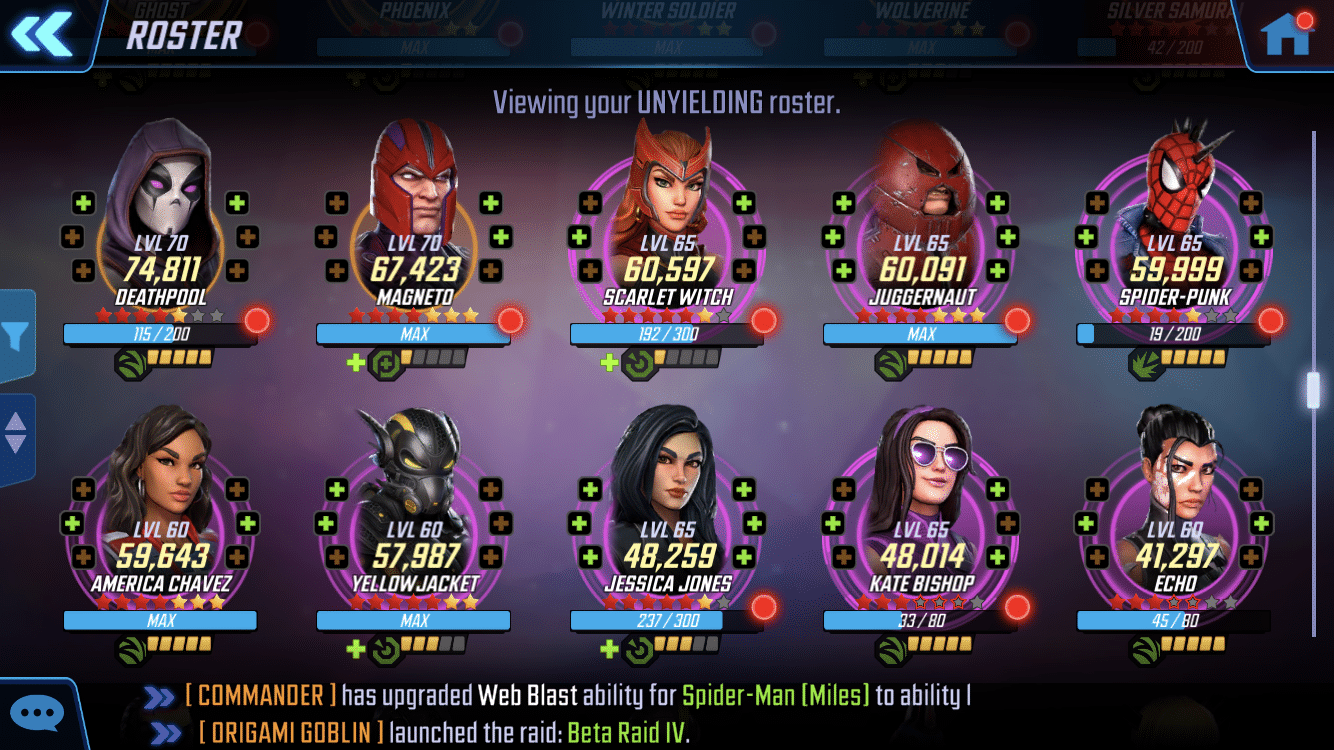 Let's close this off with a few campaign event tips for you:
Completing a higher level difficulty unlocks the corresponding node from the lower difficulties so you don't have to re-run the same node across difficulties.
When auto-spending your campaign energy, focus on the nodes that you the most orb fragments for winning. Usually this is the highest node in the lane, and then every 3 nodes below it.
Some nodes in the Hard difficulty will give more orb fragments than nodes in the Heroic difficulty. Spend that energy wisely!
Now let's go out there and unlock the Heartless Doctor Strange!
Well I hope this helps you take your Squad from a D+ to a B- Commander!
---
Previous Installments
You can check out all of our other Marvel Strike Force articles right here! We try to put out a new article every Monday, so stay tuned for even more content.
Join our Discord is you want to join us in nerding out over Marvel Strike Force.