You know how old people like to do puzzles?  The perfect evening for many older couples is doing a puzzle together.  Well, my wife and I are the new wave of that type of couple.

She actually grew up playing Legos just like I did.  While she doesn't get as excited as me to recreate some sort of battle scene with Legos, she gets just as excited as I do over the cool features included in every type of set.
When we were dating, I decided I wanted to give her a fun sort of "date" type gift.  But I hate puzzles.  Then I discovered the Lego Creator sets and my eyes were opened!  I have seen the future for couples who want a stay-in date night my friends, and it is good.
Building these sets as a fun little date night project is a million times more fun than a puzzle for a variety of reasons!
First and foremost, they are Legos, so there are cool features that we both appreciate seeing.
Second, they are three dimensional.
Third, we can build them 3 different ways with instructions, OR, we can elect to customize the finished product and make them however we want.
Lastly, they sometimes have mini-figures which are cool, but the animals are made with normal Lego pieces and are great as well.
[divider]Lego Creator Sets 5766, 31010, and 4996[/divider]
We currently have 3 sets, and are probably good with that many for now. We have:
The Beach House (set #4996),
the Cabin (set #5766),
and the Tree House (set #31010).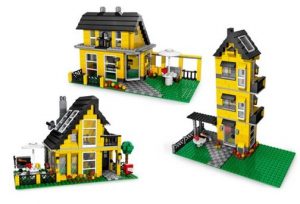 The Cabin and Tree house sets are smaller at 355 and 356 pieces, respectively.  The Beach house is the largest set with 522 pieces; it is also both of our favorite.
We did take the Cabin and Tree house and put them together into one big set.  It was as simple as having them share a water piece and building a bridge!  And so fun.
These sets also both came with mini-figures that were dressed the same, making the perfect father son duo. More simple customizations we made were giving the figures walkie talkies from a water rescue set I have in my office for children to play with (the walkies would have gotten lost anyway), and we gave the dad a shot gun from an old pirate set so he looks the part of a hunter perfectly.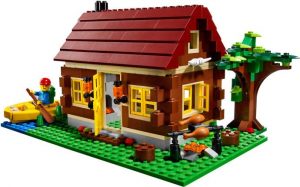 The possibilities are truly endless when you put a little imagination into it.  It's funny, when I take down a Lego set for visiting children to play with, whether at home or work, people often ask, "what if they take it apart?"  I respond excitedly, "Then I get to put it back together!"  Each time I put one of these sets in particular back together, I try to find different ways to do so—maybe just subtle little things here and there, or maybe a major change that makes my finished set very unique to me.
Each of these sets has been taken apart and rebuilt in each instruction manual form at least once by my wife and me.  That is kind of the point, right?
So Legos aren't just for children, or avid collectors, they are a fun project for anyone who wants to sit down for 20-40 minutes and just have something to tinker with.  So if you are a puzzle doer, maybe next time you go to buy a new one, you venture over to the toy aisle and purchase a creator set and see what happens…you won't regret it!