With 4 days until my birthday I received an early present: the Guardians of the Galaxy Milano Rescue mission Lego set!  I was as excited as an 11-year-old.  Or, well, as excited as a 32-year-old who collects Legos, as is the case here.
[divider] Reviewing Lego Set 76021 Milano Rescue [/divider]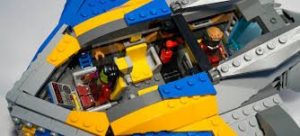 Guardians of the Galaxy Milano Rescue is numbered 76021 and has 665 pieces.  At first it seemed like maybe it would be a little smaller, but it turned out to be a terrific size when finished.  This set also includes a Necrocraft and the specs for both are:
Milano Spaceship just over 3″ high, 9″ long and 15″ wide;
Necrocraft just over 1″ high, 5″ long and 3″ wide.
While the specs aren't sexy, it helps to have a little idea, right?
Of course, the real fun is in the details.  The Necrocraft features an opening cockpit, adjustable wings and 2 missiles.  The missiles fire using the Spring Shooter piece (piece #6048898) I mentioned in the Star Wars Phantom review.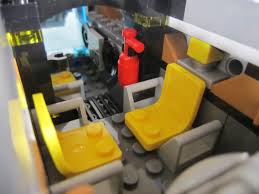 But the Milano spacecraft is really where the action is at.  The Milano features an opening and removable cockpit, multiple adjustable wings, fire extinguisher, tape deck (which is my personal favorite detail), 2 flick missiles and 2 stud shooters.  The stud shooters are much like the spring shooter piece as the have a piece to flick and it fires a stud Lego piece a good distance.
The one drawback is that many people might lose all your stud pieces.  I say play hard. Then dig around to find missing pieces later, because stud shooters are sweet!
[divider] Lego Set 76021 Milano Rescue: Minifigs [/divider]
Of course, no set is really complete without minifigures, at least not licensed brand sets.  This set includes 5 minifigures with weapons and accessories:
Star-Lord in his exclusive Ravagers suit (boot thrusters, 2 iconic space blasters),
Gamora (include two swords),
Drax (with 2 daggers),
Ronan (with the Cosmi-Rod staff, of course),
and a Sakaaran (with large space blaster)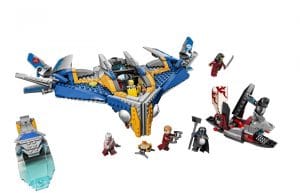 The Gamora, Drax, and Ronan minifigures are exclusive to this set, as is the specific costumed Star-Lord.
Now those of you who have read my other reviews may be shocked about what I will say next: I put the stickers on this set!  You all know I like to try to make each set unique for me, but this ship once put together lacked too much character without the addition of the stickers.  The wings have large one piece parts that are a dull grey, and the stickers are the perfect way to bring this set to life! And I have no regrets about the stickers.
This set pops right into my top 3 of ones which I own.  This one could even challenge the Millennium Falcon if it weren't for the Falcon's legendary status.  This will go up on my display shelf as soon as I am done playing…I mean examining it for review.
I easily give this set a 9.7 out of 10 nerds!