Ever wanted to visit a place you've read or heard about?
Maybe you read about Ireland in a book, read a magazine about far away places. Maybe you dreamed of entering a wardrobe as a child and finding Narnia. Or walking through a looking glass into Wonderland.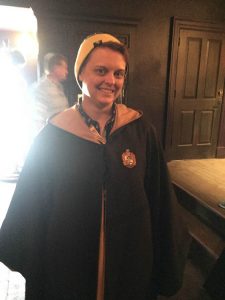 For me, it was Hogwarts. And the Wizarding World. So, when Universal Studios announced that "The Wizarding World of Harry Potter" was opening in June of 2010, I freaked out. I personally planned the trip for my mom, my brother, and me that July.
Walking into Hogsmeade, seeing the buildings, the Hogwarts Express, and hearing John William's score made me cry. I seriously looked at my mom and cried real tears.
I cried again on the Hogwarts ride. Part of my childhood had come to life. I got to walk through the castle that I longed to visit. I got to see paintings talk to each other. I saw Dumbledore's office. And the Fat Lady.
I was in awe. I drank butterbeer and ate at The Three Broomsticks.
I had to go back.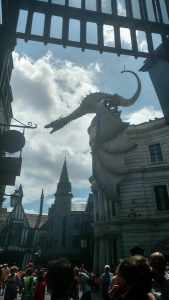 And I did. I thought I was content with it.
Until last summer. When Diagon Alley opened.
I freaked out again.
So I went back for a day trip with a couple of friends. It was a fast trip but we got to see the essentials.
I decided even that wasn't enough. I needed more Harry Potter.
I just got back from another trip. We stayed for three glorious days. Not only did we eat at The Leakey Cauldron twice but we rode Escape from Gringotts many, many times, we saw Celestina Warbeck, Mrs. Weasley's favorite singer in the books. I felt like I had stepped into not only the movies but the books as well.
[tw-parallax image="https://nerdsonearth.com/wp-content/uploads/2016/04/IMG_0216-1.jpg" target="self" lightbox="no" link="https://nerdsonearth.com/wp-content/uploads/2016/04/IMG_0216-1.jpg" ][/tw-parallax]
I felt like a witch.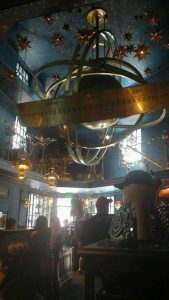 I was in high school when the first book came out in America. And I didn't actually start reading the books until the third one was released. I went to the midnight release of the fourth book at Barnes & Noble. I made my dad go with me. He was miserable.
I was among my people.
I went to the midnight showings for as many of the movies as I could. I have a Deathly Hallows tattoo with Mischief Managed close to it on my arm.
I love the world of Harry Potter.
I'm still waiting on my Hogwarts letter. Universal Studios lets me pretend that I got that letter. I can pretend I'm shopping for my school supplies in Diagon Alley. That I'm satisfying my sweet tooth at Honeydukes. That I'm returning to London on the Hogwarts Express after another exciting year at school.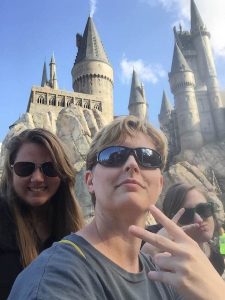 Sure, during my trips I usually walk around the rest of the park. The Mummy happens to be one of my favorite rides. I met Storm and Rogue on this trip. (BTW, Storm is a huge Mass Effect fan.)
But I always end up at The Wizarding World. I go back to it. I go back to hear the music, to see the magic, to see the other fans freaking out.
If you haven't visited Universal Studios' The Wizarding World of Harry Potter, whether in Orlando or Hollywood and you are a Potter fan, do it now. You won't be disappointed.
[give_form id="5476″]