If you follow us on Facebook, YouTube, Twitter, or Instagram, you'll know that we acquire a lot of miniatures at Nerds on Earth HQ. In fact, some folks would say I have a problem, but I can stop getting more miniatures any time I want. I promise.
Well, Wizkids came out with a new line of unpainted minis and I just had to have them.
Review of Wizkids Unpainted Miniatures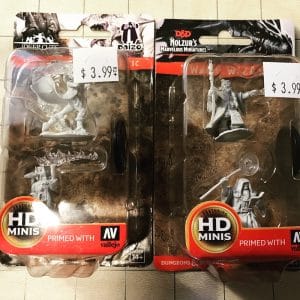 I won't tease you by having you wait until the ned of the article for the punchline: these new Wizkids unpainted miniatures are phenomenal. If you are a D&D or Pathfinder player, you won't find a better value or product. Pending you know how to paint minis, that is.
There are two similar lines. D&D versus Pathfinder is the new Coke vs. Pepsi and Wizkids continues this. While both are classic fantasy sculpts, they come in two branded lines.
The D&D miniatures are Nolzur's Marvelous Miniatures. This line is most of the creatures, including some that are D&D IP, such as mind flayers.
The Pathfinder line is branded as Deep Cuts. The Deep Cuts line has mainly player characters. All the popular classes are represented and many of the sculpts are Pathfinder's popular "Iconic" characters, such as Seoni the sorceress or Valeros the fighter.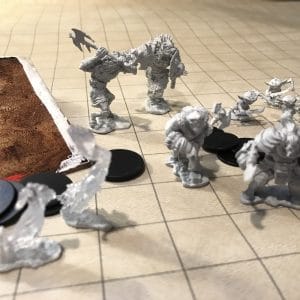 Each package gives you two poses. Every blister pack contains two miniatures of the same character class or creature, but in two different sculpts. This is really cool. The idea with two sculpts of the same character is that it gives you a "level up" miniature. One sculpts is for low level, while the other can be painted later in your campaign. Neat.
The packs are all at the same price point, but the smaller sculpts–like goblins or familiars–actually give you three miniatures in the same blister pack. Again, neat.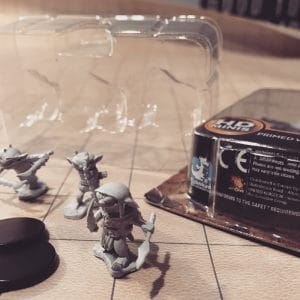 They have the painter in mind. Again, these are unpainted miniatures, so we knew that painting would be involved. But Wizkids did a couple neat things:
The bases come separately. There is a base per figure that is detached. If you want to go low-key, you simply glue the base to the figure after you paint it. If you want to go next level, you can add sorts of terrain accoutrements to the base afterward.
The minis come pre-primed. I like to prime my minis because using spray paint is fun, but still I really appreciate that they come ready to paint right out of the blister package.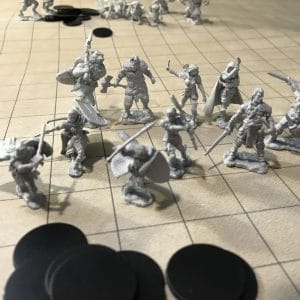 The sculpts are great. The miniatures are well detailed overall. They are also in interesting and dynamic poses. Wizkids sculptors put their talent on display.
The plastic is also firm (meaning the swords don't droop) and the minis don't seem fragile in any way whatsoever. There are occasional mold lines here and there, but that is understandable and can easily be cleaned up with a hobby knife.
Extras touches. The spellcasters are where this line shines. Each mini has a clear plastic attachment that illustrates a "spell effect." There are flaming swords, electricity effects, and more. It's really neat.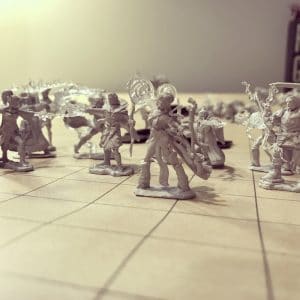 While it's an extra little touch, the fact that the minis come pre-primed make these spell effects easy to keep clear when painting. Of course, you can also use some fun painting techniques to add frost effects or whatever.
Final thoughts. These Wizkids unpainted miniatures have only been out one day and they already feel like a nice addition to the hobby. Wizkids already make the only D&D and Pathfinder pre-painted miniatures on the market. Now they are giving painters a line of affordable miniatures as well.
As a business aside, I have to mention Reaper Bones, the company that currently makes the only other unpainted D&D and Pathfinder miniatures worth seriously talking about. But whereas Bones has a broader line and bought affordable unpainted minis to market first, Wizkids has cast a firebolt across the bow. I don't expect Reaper's 2nd quarter financials to be very rosey.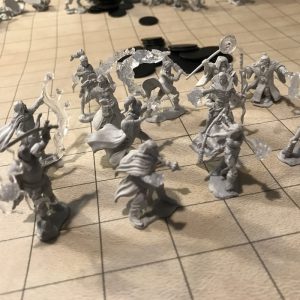 The Pathfinder Deep Cuts and Nolzur's Marvelous lines are well done miniatures first of all. Second, they are packaged attractively and priced affordably. Third, they are pre-primed and come with a detached base. Finally, they cast a second level spell in adding the special effect pieces to the spellcasters.
The bottom line is that the Wizkids unpainted miniatures are a huge win for Pathfinder and D&D fans.
Want to discuss them? Jump over to over Facebook page.