After last week's arrival in Alexandria, we have all kinds of questions to be answered still. What will Deanna, Alexandria's version of The Sorting Hat, ask everyone to do? Is it possible the unholy triumvirate of Rick, Carol and Daryl are really going to have a revolution?
Walking Dead Episode 513 spoilers follow.
[divider]The Walking Dead Episode 513 Recap: Forget[/divider]
The episode opens on Sasha, who collects her gun from storage, then outside the city shoots up a bunch of pictures of a family from a house. (Wild prediction: said family was visiting the west coast during the zombie apocalypse and turns up in the spin-off series.) When no zombies come, she has a bit of a breakdown, yelling "Come and get me."
This scene with Sasha plays out a larger theme that lots of the members of the survivors are wrestling with: are they too far gone to be domesticated? And there seems to be a split. Folks like Glenn, Maggie, Noah seems to be okay with it. Rick, Carol, Daryl and Sasha seem to be not okay with it. Folks like Abraham and Michonne seem to be on the fence.
Rick, Carol and Daryl meet-up outside and concoct a plan to get some weapons. Carol will leave a window open and she has already cased the inventory, knowing she can get some handguns. Rick declares that Alexandria is lucky because the survivors are there now. A walker comes up, Carol shots it and then Daryl discovers what is either a W or a M carved into the head of a dead walker.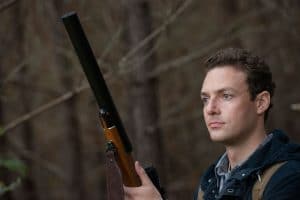 Daryl is hunting in the woods when he calls out whoever is following him, who turns out to be Aaron.  Aaron is clearly impressed by Daryl's skills and asks to learn from Daryl. And in the most unlikely duo on a show that loves to create odd couples, Daryl and Aaron go off into the woods hunting together.
Rick, Michonne and Deanna are walking around and the constable wants to make changes to the walls, because he is worried about people climbing into the city. He tries to convince Deanna that walkers are enemy #2, behind people. Michonne talks about the watchtower, when Deanna reveals that the tower is empty, just a rifle her son has up there that is empty. Sasha quickly volunteers to take as many shifts in the watchtower as possible when Deanna cuts her off and says that she needs  to come to a party Deanna is hosting for the new arrivals. Deanna says that the meantime, her son, Spencer, will take the first watch.
Carol is then chatting up recipes on the front porch when Rick walks by. Carol later tells Rick that she is the best person to send for the guns. She can leave a window unlocked and slip away because she is "invisible". They hatch a plan to do it during the dinner party.  And they both seem to think Daryl is the wrong choice because he is being watched.
Daryl and Aaron [learn more about Aaron] stumble onto Buttons the horse, so named by a kid in the city. Aaron has tried to help the horse but hasn't been able too.  Daryl talks about how it has been free too long and now knows what it really is, which is tonight's "Film School Subtext Overkill", which is becoming a staple on the show. When Daryl gets close to the horse, it gets spooked by walkers and Daryl and Aaron both prove pretty effective in killing walkers as the horse runs away.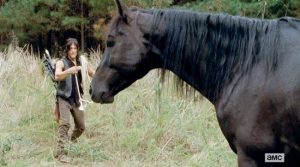 As they keep tracking the horse, Aaron explains how he understands how Daryl doesn't fit in, how even now after the zombie apocalypse, he and his partner Eric are treated differently.  When they come close to corralling Buttons, walkers overtake them, with them both saving each other's lives and then them both fighting walkers, who are making a meal out of the captured Buttons. Aaron has to put the horse down with a shot.
At that night's party, you see everyone hanging out. They meet Deanna's husband Reg, who offers Rick booze.  (And my first instinct was that an alcoholic, power yielding Rick Grimes is a terrible idea.)  Noah is clearly uncomfortable at the party and is about to bail when Maggie and Glenn give him a pep talk.  Rick officially meets the husband of Jessie, his new hairdresser, who turns out to be a doctor and offers to give him a check-up.  Their son comes by and gives Rick a red stamped A on his hand, which Jessie says is a sign that he really belongs now.
Daryl is watching outside and decides to walk away; on his way back, Aaron invites him in for dinner and the budding bromance is extended over dinner with Eric. Daryl is clearly a fish out of water but Aaron reveals two things to him:
Aaron has asked Deanna not give Daryl a job because he wants him to be Alexandria's next scout and,
the garage of his house is a motorcycle shop.
Daryl is clearly moved by the motorcycle, as well as Aaron's declaration that part of what will make him a good scout is that he has good instincts about who are good people.
Sasha shows up at the party and meets Spencer, who tries to crack jokes but it isn't going well. As Carol slips out, Abraham and Michonne have a conversation about what it will really take to blend in and survive in this new environment. The whole conversation is done using the talk of Michonne's katana and the little swords you get at fancy parties.  They both are trying to figure out how to fit in.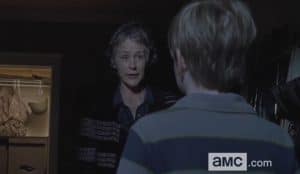 Carol has managed to get away and while she swipes some chocolate and guns, the little boy Sam has followed her. Clearly, she is not happy. And she gives the most terrifying speech about how if he tells what he has seen, she will take him outside and essentially feed him to the zombies. Or he can keep his mouth shut and get cookies. (Kid – under no circumstances would I eat cookies from a woman who just gave me that speech!)
Back at the party, Rick and Jessie have another conversation about how things here in Alexandria aren't so bad, which ends in a kiss, which Jessie enjoys way more than she should have. Sasha then has a complete freak out and anxiety attack, then what we see next is her having an argument with Deanna about how all this isn't real. Deanna gives her a gun, some food and puts her outside the walls of the city. But it isn't clear whose choice that is. It feels weird that none of the other survivors are there to see her off.
When the unholy trio meet back up to get the guns, Daryl decides not to take one, while Rick and Carol each take one.  Interspersed in that conversation is a shot of Michonne hanging up her katana as a work of art in her house above the mantle. As the trio walks back inside and head their separate ways, Rick comes across Jessie and her husband; and after an innocent wave, he has a crazy look in his eyes and reaches back for his handgun.
The episode ends with Rick feeling a walker on the other side of the wall and staring at the red A on his hand.
[divider]The Walking Dead Episode 513 Closing Thoughts[/divider]
The division of Rick's crew is interesting. Basically by the end of the season, you could see the group breaking into at least 2 groups, maybe more. Who will stay at Alexandria and who will go, or even attempt to overthrow the group.  This comes with two major turns:
Sasha couldn't make the leap back to "normal" and,
Daryl seems to be finding peace at what his role could be.
Rick is going crazy. When I saw him look at Jessie and reach for that gun, I yelled "Remember Shane!" because Rick has been on the other side of it before. Nothing will undermine his character and leadership more than trying to kill a man and take his wife. (Even if the guy is a jerk.)
Daryl and Aaron. Unexpected but great. Very interesting writing and storytelling. I hope we see more of their adventures.
Is that a carved M or a W? I want it to be an M for Morgan.
I want to know what everyone else's jobs are. Because someone needs to take over party music planning. That music was the worst. I understood why Sasha flipped out. All they needed was the Prince greatest hits soundtrack and everything would have been fine.
My unexpected choice to be the new DJ: Eugene.  Sure his iPod has stuff like Johnny Cash on it. But he is also the kind of dude that would have Digital Underground's "Humpty Dance" on there unexpectedly. That's the guy I want making my party playlists.