When I was a young nerd, my biggest worry was trying not to get caught as I "borrowed" my big brother Jason's comic books so that I could write Marvel RPG character sheets for the heroes and villains contained within their pages.
Fast forward twenty-five years, and I don't "borrow" comics anymore; I can buy my own now. Instead, I worry most about my three kids: my 11- and 8-year-old daughters and my 4-year-old son. My greatest hope for them is that they grow into confident, mature, responsible people.
I want them to be comfortable enough in their own skin to make their own choices, even if it means swimming against the current (though we'll have problems if they say they love the Snyderverse; nobody should love the Snyderverse).
I don't know any better way to do that than to encourage them in every nerdy tendency that nature and nurture has given them. I firmly believe that if they find that one thing for which they have an irrational love and find others who love it, too, they'll always have friends.
I've been at this parenting game long enough to have learned a few tricks, discovered a few gems that I enjoy with my kids, and made more than a few mistakes. In this first article form this band new Nerd Dad column, I'll be sharing some of those every other week here at Nerds on Earth.
First up: Gortimer Gibbon's Life on Normal Street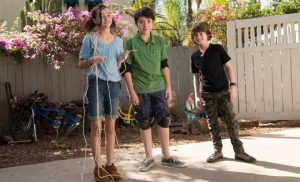 I struggle with much of the nerd storytelling out there in television and movies because it can't seem to tell a story about mystery or magic without crossing lines into content that isn't appropriate for my kids.
Gortimer Gibbon's Life on Normal Street is a notable exception. The show, which was picked up by Amazon Studios after it was submitted by then-preschool teacher David W. Anaxagoras, debuted in 2014 and is available to stream on Amazon Instant Video.
The show centers on a trio of friends—Gortimer, his rambunctious lifelong pal Ranger, and their type-A girl-next-door friend Mel. The three live on ironically named Normal Street, where mysteries and unexplainable occurrences are daily fare.
In the first episode (S1E1), Gortimer and his friends deal with the Frog of Ultimate Doom, a magical and mysterious amphibian that has brought an unbearable heat wave to Normal Street. In Gortimer Gets Shushed (S1E5), Gortimer's voice is taken by a ghostly bookmobile driver, and Mel and Ranger work to get their friend talking again.
To describe each episode in a single sentence highlights two things about this show.
It's pure whimsical fantasy, with some setups that are beyond bizarre.
While the storytelling and writing is wonderful, the real magic of the show lies in its cast.
The entire cast is phenomenal, and props are due to Sloane Morgan Siegel (Gortimer), Drew Justice (Ranger), and Ashley Boettcher (Mel). They are some of the finest young actors you'll find on screens of any size, and they're joined by an equally impressive supporting cast (I'm partial to David Bloom's Stanley, and my daughters like Chandler Kinney's Catherine).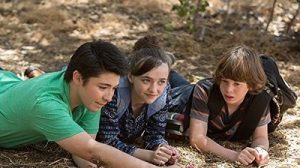 Even with such a quality cast, there is one standout. Ashley Boettcher, and her portrayal of Mel, take this show from fun family fare to something truly remarkable.
In a world where the all-female Ghostbusters reboot set social media on fire and precious few shows can pass the Bechdel test (even among shows intended for the tween set and led by female characters—I'm looking at you, Disney Channel), Mel is remarkable because she is complete. She is a strong, smart, principled girl who could easily carry the show on her own (I think Mel Fuller's Life on Normal Street has a definite ring to it).
As a father to two young women, seeing Mel on our television matters.
If you take my advice and start watching this show, you'll be tempted to binge watch. Resist. While lighthearted and fun, this show tackles some weighty ideas. I've found that letting my kids percolate on an episode for a while yields some great conversations later in the week. (This is especially true in season two—some of the ideas covered in that season demand time to process.)