I've been asked by the Earth Nerds to do a few guest posts about something that is even beyond their nerdiness: Collecting and constructing Lego sets!
I can say without shame that I have loved Legos since the day I was introduced to them, sometime in the 80s. I used to spend hours upon hours watching Star Wars and trying to recreate the scenes with my Legos. Decades later, I am still a Lego nerd.
I have dozens of little sets situated around my room and office, and I have another 7 star ships displayed atop my entertainment center. The smaller sets are great and make really fun, affordable gifts for the Lego lover in your life. But I want to review some of the larger sets, because those are the ones that have really cool and unique details to highlight. They're also the ones that will cost you a lot more, so how about a review to let you know whether they are worth it?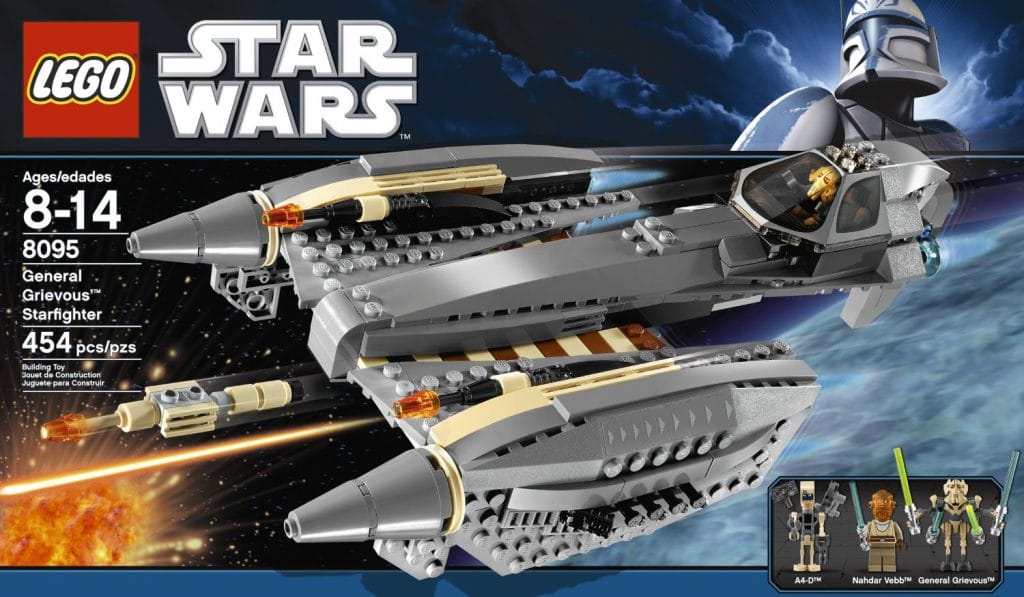 Lego Set 8095 General Grievous Starfighter
Let's start with General Grievous' ship set. This is one of the first larger ship sets I bought—in large part because Legos are not cheap. I opted to buy this set for a few reasons:
Like I said previously, I was ready to move into the larger sets and this was a good 450+ piece set to start with.
The "extras."
I wanted a new bad guy around.
While the ship itself accounts for the majority of the pieces, the extras are oftentimes what makes a great Lego set purchase. This set came with Grievous (of course), Grievous' command chair, a light saber rack full of light sabers collected by the nefarious Grievous, an A4-D droid, and new Jedi Knight Nahdar Vebb.
The Build
As I unpacked my Legos and prepared for construction of the Malevolence, I was like a kid in a candy store. Legos are great because they offer a lot in terms of imagination, but also in basic engineering. The detail that goes into most Lego sets is truly astounding.
Take the Malevolence, for example—while she has a few pieces specifically designed for her construction, she is put together of mostly standard Lego pieces. Meaning, if you collected enough random Legos and had the instruction book, you could slap together a relatively close imitation ship. Not that you would want to exactly, but it shows the brilliance of the Lego master builders who come up with these sets.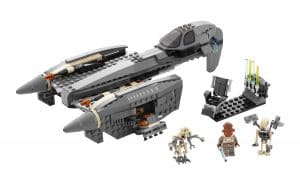 Back to the ship itself. Most star ships have plenty of swinging and sliding parts, and Malevolence is no different. From her sliding cockpit to directional flaps on the tail, to swinging guns on the wings and hidden missile launchers, Lego did an incredible job with this ship. These are the few pieces that are absolutely unique to this set, and you just cannot get the sleek design of the ship with only common Lego pieces. But the set strikes the right balance, since if the entire set is comprised of only specialty pieces it begins to take away from the imagination and creativity of master builders everywhere.
Final Thoughts on Lego Set 8095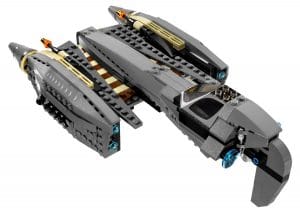 The only thing that would really complete this set would be the menacing sound of the ship in flight. But I think I have that covered with my own personal sound effects. I am a boy after all.
While this is not the crown jewel of my collection by any stretch of the imagination, it is one of my favorite sets. It appeals to my Star Wars nerd side because Grievous is an obscure Star Wars characters—or at least he was until the Clone Wars cartoon hit the scene.
The bottom line? It also greatly appeals to my Lego nerd side because of the intricate design and hidden construction gems.