Listen, we can go all Linus at the Charlie Brown Christmas special and complain about the crass commercialization of Christmas. And that is a worthy post. But let's also be honest and say that sometimes the holidays and the exuberant commercialization of the day produces some pretty fun things. And in comics, that can especially be true.
Over the years both Marvel and DC have made some pretty great Holiday Special issues. And while I would love to regale you with tales of Superman making an assist to Santa Claus, DC Comics doesn't have an Unlimited app, so they get the proverbial coal in their stocking from me. But thanks to Marvel Unlimited, we have access to some great Marvel holiday comics.
So here is a quick rundown of some stories that you should check out from the available apps.
Santa Loves Marvel: Here are Some Holiday Comics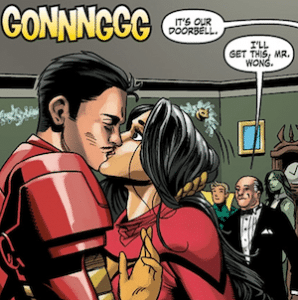 Marvel Holiday Special #1 (2004) This comic opens with a pretty well done but unexciting take on the Christmas Carol with J. Jonah Jameson as Scrooge. The star of the issue is a tale from the X-Men universe that is really touching, centering around Emma Frost, Scott Summers, and student of the Xavier Academy no one will welcome home for Christmas it. Written by Roberto Aguirre-Sacasa and drawn by Roger Cruz, it is a great comic.
Marvel Holiday Special #1 (2005) has a couple of great Marvel stories. The first one centers on the Fantastic Four, as a stellar Submariner gag and made me really miss those heroes.
But the star of the issue is "Yes, Virginia, There is a Santron" which is partly about the Avengers Christmas party, partly about a Santron built to kill them and it most definitely has a "Santa is real" speech from Captain America. Well, at least until Nick Spencer retcons that as well. One of the gags involves Spiderwoman, mistletoe and all the dude Avengers that would never, ever get published today.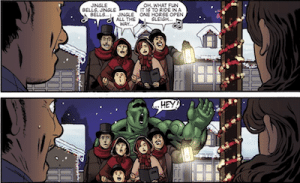 And in 2009, Marvel released the Marvel Holiday Spectacular #1, which has a charming Chanukah story that is a little too relevant to our times. After walking the Thing to his synagogue, the rest of the original Fantastic Four catch some alt-right folks spraying graffiti on the building. They quickly take care of it as a gift to their friend, Ben Grimm.
In 2010, Marvel released a series of stories in digital only format under the banner Marvel Digital Holiday Special. Issue #1 tells a great holiday Doctor Doom story. Issue #2 tells the story of Jane Foster's disastrous office party at the pediatric ward, followed by her accompanying Thor to Asgard for their holiday feast. Issue #3 is a funny but simple story as the Hulk tries to understand Christmas.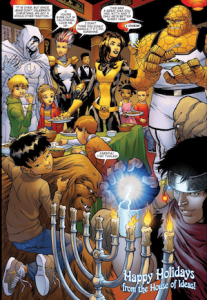 Marvel Holiday Comic 2011 has two stellar stories. "Logan's Lost Lesson" involves Wolverine punishing students who trashed Beast's lab by making them play hockey! (It is like the old school softball games just way more Canadian). But the issue also has an amazing Ben Grimm story called "Chinese Food for Christmas" that is a great Chanukah story!
So, if you wonder if the heroes of the Marvel Universe ever get into the Christmas spirit, take a look at the stories told in these comics available on the Marvel Unlimited app, along with a few more.
And maybe your heart will grow 3 times that day!