A year ago, the buzz of GenCon 2017 was Paizo's release of their science fantasy tabletop roleplaying game. The venture was the biggest new launch that Paizo had attempted and it was met with an astonishing amount of attention, even selling out of all their inventory there.
For the last year, many have enjoyed the Starfinder game. But when it was announced that the launch of GenCon 2018 would be the Pathfinder Playtest, as they worked to create version 2.0 of their core game and rules set, there were obviously some people a bit nervous that maybe Paizo wasn't going to fully support and continue the work on Starfinder to help make it a more robust and full scale game.
Thankfully, the first day of GenCon had a couple of key Starfinder seminars and announcements that seem to be saying loudly and clearly that Paizo will continue to support Starfinder.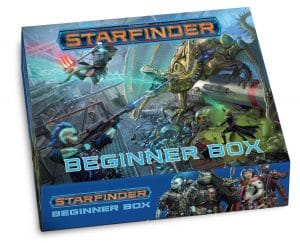 Some of the announcements that Paizo made are great for existing players. There have been some changes to the Starfinder Adventure Path, the recently released Armory book and the Dead Suns Adventure Path Pawns, which are all great news for those already playing Starfinder.
But even more importantly, they made an announcement that is designed to get new players into the game in a much easier way: the Starfinder Beginner Box.
Clearly inspired by the wildly successful Pathfinder Beginner Box, it has all the core elements that someone might need to jump into the game and get started on their own, without having to do a deep dive into the massive core rulebook.
Look at all that they are including in the box:
The Starfinder Beginner Box is packed with everything players need to get started playing Starfinder, and includes:
A 96-page Heroes' Handbook, detailing character creation, weapons and equipment, magic spells, and general rules for playing the game
A 96-page Game Master's Guide packed with adventure, alien adversaries, an introduction to the Starfinder setting, and advice on how to create and narrate science-fantasy adventures
A complete set of 7 polyhedral dice
More than 80 full-color pawns depicting diverse heroes and aliens
Six pregenerated character sheets to throw players right into the action
Six blank character sheets to record the abilities of custom-made heroes
Six player aid cards for quick rules references during play
A durable, reusable, double-sided Flip-Mat play surface that works with any kind of marker
Above all, this product is an exciting set to see the team put together so that new players and gamemasters can be drawn to the series. If the pricing holds to the similar Pathfinder box, this will be cheaper than the core rulebook (or right around that cost) and it will give all the key information needed to play and start being a part of the Starfinder universe.
I know for me, this will be an excellent gift to give to my friends who need just a little bit of a push and option to get them to try Starfinder. Overall, this is an excellent resource, providing a lot of bang for the buck and an outstanding introductory product. The future of Starfinder looks great and this box set will be a great addition when it comes out in Spring of 2019.