Amazingly, we are getting new Star Wars movies, so it's a wonderful time to be a nerd. New Star Wars movies also means more Star Wars licensed games.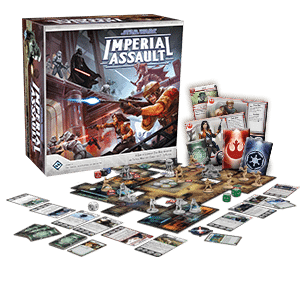 The Star Wars license for board games, card games, and roleplaying games is held by Fantasy Flight Games, which is just a hop, skip, and jump from my home here in brisk Minneapolis. And Fantasy Flight Games is absolutely KILLING IT when it comes to the Star Wars games they are producing.
Star Wars Imperial Assault is a tactical miniatures game. What this means is you have a box full of little Star Wars miniatures and you move them around on a game board to complete missions. By the moons of Mandalore, it is crazy good fun.
On one side you have miniatures like Stormtroopers and Darth Vader who are joined by bounty hunters. Oh yeah, there is an AT-ST mini! On the other side are the forces of rebellion, featuring rebel soldiers, Jedi, and more. Over 30 unpainted miniatures are included in the box.
A Review of Star Wars Imperial Assault
Let's hit several points about the game:
Imperial Assault allows for tons of play options. There is a campaign guide that gives players a couple dozen missions that are set up differently. Each mission makes use of the included map tiles that are arranged uniquely for the mission. Then each mission requires different miniatures and objectives. The result is lots of different looks that keep the game fresh. To further mix it up, you can play 1 v 1 skirmishes.
There is a sense of story to the game. I'm a sucker for a game that shows some story progression and Star Wars Imperial Assault does that. As you work yourself through the campaign guide, the mission briefings become more intense and depending upon the outcome of the particular mission, you'll get a different mission debriefing message.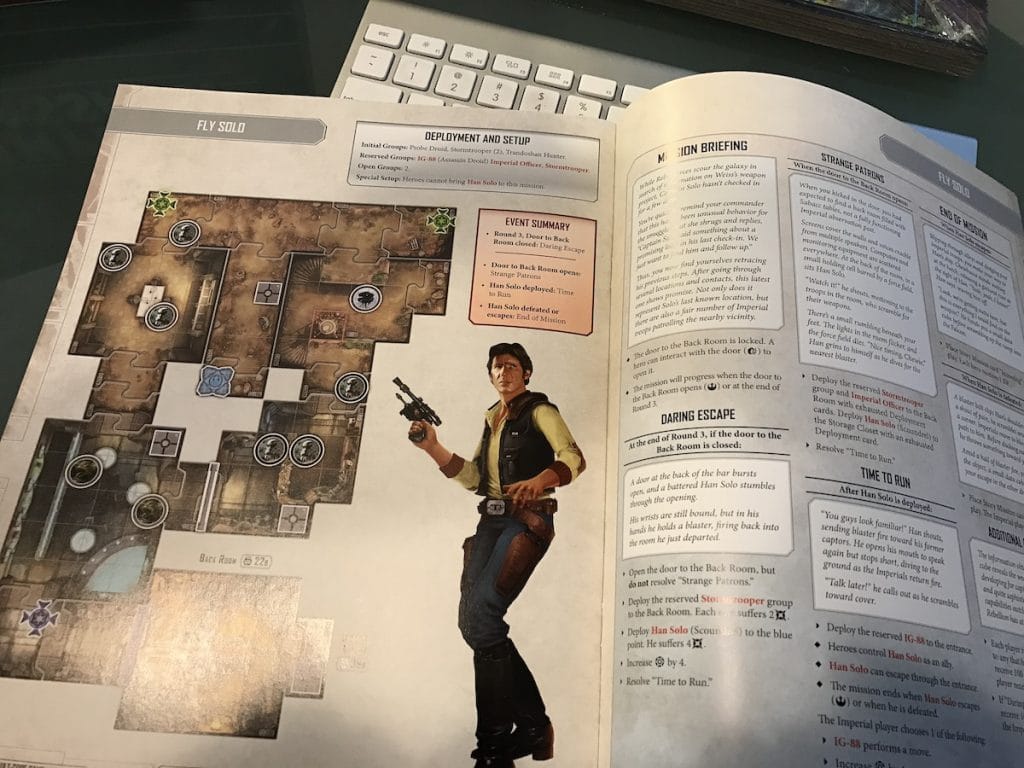 Imperial Assault is not easy to learn. Fantasy Flight Games is well-known for dropping big, thick rulebooks on players. Imperial Assault thankfully has a brief Learn to Play guide that is marked as "read this first", but that pamphlet is 16 pages and then you're jumping to a 2nd rulebook that is 28 pages. But you soldier on because the Dark Side needs vanquished.
It's a really fun game. Not much needs to be elaborated here; it's a good game.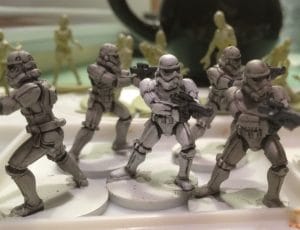 You can get dozens of expansions. Fantasy Flight is generous with the core box that includes tons of minis, plus all the cards and cardboard pieces you need to play. But Star Wars fans want all the characters, and who can blame them? Luckily, Fantasy Flight makes all sorts of single mini expansions that come with a single miniature, plus a couple more missions. I have several of these (Lando and Chewie, to name just a couple) and I don't regret a single one.
You have to paint the miniatures. The miniatures come unpainted, which is a feature, not a bug. Miniature painting is like nerd meditation, so it's a hobby I enjoy, even as I rarely have time for it, nor am I any good at it. Still, it's great. I've written before about when I painted my Stormtroopers and since then I've discovered the excellent Sorastro, who we interviewed because he provides step-by-step video tutorials for painting Star Wars Imperial Assault miniatures. Really, you have to read that interview and check out Sorastro's work.
---
Star Wars Imperial Assault is a great game. It oozes the Star Wars theme us nerds love. It has plenty of variety in the missions presented and it's highly expandable.
Buying the game simply to paint the miniatures alone is worthy of the purchase, but that would underplay how fun of a game it is. Make no mistake, it is fun. Who hasn't watched a scene like the escape from Cloud City and thought about how fun it would be to play through similar missions? Imperial Assault is our chance.
It's a really pricey game, but you can get it here for a pretty nice discount.
Please like us on Facebook and tell your friends about Nerds on Earth.
[ninja-inline id=10231]