Friday 5 collects bits of news, fun, and updates on the week's best nerdy things. Five quick links and your mana pool is replenished for the week. You're welcome. Now, to the links!
Nerd Culture Highlights for the Week of January 1, 2017
1.  Worst officially licensed action figure ever…?
Youtuber Ashens thought to add a new series to his channel by surveying officially licensed action figures to see if he could find the worst of the worst.  He got exactly one video into his search before (in all likelihood) crowning the victor.
Aunt May…?
(Warning:  The video does contain some course language)
via Geek Tyrant
2.  Which of the playable races from Volo's Guide to Monsters should you play?
Having trouble deciding?  We've got you covered on two fronts:
Check out this handy dandy infographic from lucidchart.com which guides you to one race over the others by a series of questions and arrows corresponding to your answers.
3.  Deadpool and writers Rhett Reese and Paul Wernick are up for a Writers Guild Award.
While Deadpool did not win the 2016 Nerdy Award for Most Excellent Movie, it continues to find itself nominated for other, less important awards.  Most recently its writers found their names on the WGA slate for Best Adapted Screenplay.  And it is in two categories (Best Motion Picture – Musical or Comedy and Best Actor – Motion Picture Musical or Comedy) in the Golden Globes which will air this Sunday, January 8th, at 8pm Eastern on NBC.
Will it net an Oscar nomination?  Voting opened

yesterday and closes a week from today.  All nominees will be announced come January 24th, so stay tuned!
via slashfilm
4.  Mass Effect: Andromeda is not currently planned to come out on the Nintendo Switch.
Andromeda didn't come up in our chat covering our most anticipated games of 2017 (much to the chagrin of some of our Facebook followers), but that's not to say that we're not looking forward to it!  But by the sounds of this brief excerpt from an interview with producer Michael Gamble, Switch owners shouldn't hold their breath.
But they will have Legend of Zelda: Breath of the Wild, so there is that!
via ign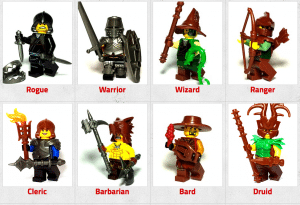 5.  BrickWarriors.com turns your LEGO minis into tabletop RPG classes.
For once Facebook ads actually struck the right chord with me.  This is a pretty cool concept that I believe Earth Nerd Nash is looking in to for a future post.  He's our resident LEGO expert/addict.
---
That's it for the first Friday 5 of the New Year!  To many more.