Welcome back Marvel Strike Force (MSF) Mondays. Each week we break down one more aspect of the hottest mobile game, Mobile Strike Force! Previous installments:
Welcome back to Marvel Strike Force Mondays!
Each week we break down one more aspect of the hottest mobile game – Marvel Strike Force! We have a major update coming to the game soon, and with this update will be the introduction of the ISO 8 modification system to the game. Here is a great in depth early look at ISO 8 by PIKA from Alternerd Reality.
He does a great job of explaining ISO 8 as a combination of gear and stark tech to use in game verbiage. I believe similar systems have been introduced in other mobile games such as Star Wars Galaxy of Heroes, but this of course is a unique to MSF version.
ISO 8 will essentially be a customizable boost to existing in game stats: health, damage, armor, focus and resistance. While also introducing new classes: Striker, Fortifier, Healer, Skirmisher, or Raider. These classes will act as a secondary passive ability and can be switched at any time.
Let's break down these classes (at level 1 for now).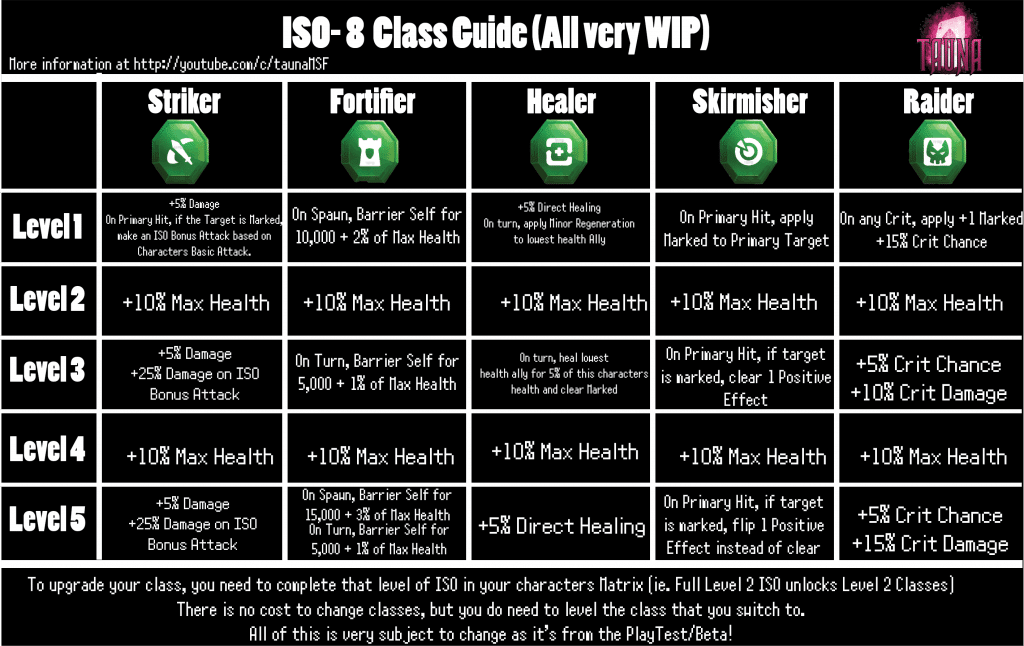 Marvel Strike Force ISO 8
Fortifier – On spawn this trait provides a barrier for self, which could either make a protector extra beef, or provide a layer of protection over a squishier toon.
Key characters: Drax, Sif, Stryfe, Hulk etc. I might try fortifier on a glass cannon like Human Torch or War Machine to see if it gives a little more sustainability.
Skirmisher – On primary hit, apply "marked" to primary target. Each "marked" interacts differently depending on which character is applying the "marked" as well as to whom they are "marking."
Key characters: Okeye, Toad, Mystique, Yo Yo, X – 23
Striker – For instance, in addition to an increase in damage, the Striker class will deal an extra attack on their primary target, if that target is "marked."
Key characters: Cyclops, Black panther, The Thing, Negasonic
Raider – As Pika calls them "king of the crit" on any crit they apply +1 "marked," and gain increased crit chance! (Crit = critical hit)
Key characters: Wolverine, Killmonger, Elsa Bloodstone, Domino
Healer – And of course, your own toons can be "marked" so naturally the healer class will combat this. They will heal most vulnerable ally each turn (remember this is a passive trait) as well as clear marked from most vulnerable.
Key characters: Minnerva, Scientist Supreme and other healers are almost no brainers, but let's say for instance you have a team without a healer, I might give a player this tag to see how it boosts a team such as the Inhumans. I would likely try Crystal as my healer. Tauna used healer on his Phoenix for his X-Men.
Now in the video, Pika highlights the uniqueness of Wakandians as a great team for these new modifiers. With these you want to fit a team to the balance of the 5 classes because even though you can double up, it seems as though all 5 have a very symbiotic relationship when balanced, so that might be the way to go.
How Do We Construct and Level Up ISO 8?
You will need two items, Crystals and the new currency, Ions.
Both will be collected in a soon to be added ISO campaign.
To construct, you will put these crystals and Ions into the matrix to form your ISO 8 class traits.
Once you have a complete version, you can apply it to a character to boost your toons.
These crystals have properties such as the normal in game abilities, health, damage etc. and while you cannot activate a class trait until you complete a level one version, you can add extra boost to each property even without leveling up completely. So a character can be a 1.2 ISO power.
Tauna goes much more in depth in constructing these ISO 8.
He also thinks that the Raider class is the most valuable, but again, the class traits seem to be set up to work best together!
---
Game Radar
Blitzes: Monday blitz features Ben Grimm, The Thing. Thursday blitz is Scott Summers, aka Cyclops.
Events: Chaos Theory is on the horizon, so boost your Wakandans to collect red star credits. Round 2 of Emma Frost milestones is coming, so make sure you are hoarding gold to maximize your spending with the Emma event!
New Characters Confirmed: Scream is coming to join the Symbiotes! She will be released in a campaign for characters with the tag – Metamorphosis
Other characters confirm are Anti-venom and She-Hulk and release details are forth coming.
Time to focus on is Bio gear so you can level these characters up as you unlock them!
Upcoming Legendary: Phoenix is coming, so level up you Villain, Mystic Controllers! Remember these need to be 6 stars as Phoenix is the premier Legendary character!
Black Bolt: April 27th, August 17th, December 7th (Requires Asgardians 5-star)
Shuri: May 11th, August 31st (Requires Spider-verse 5-star)
Ebony Maw: May 25th, September 14th (Requires Inhumans 5-star with Black Bolt)
Phoenix: June 8th, September 28th (Requires Mystic Villain Controller 6-star)
Star-Lord: June 22nd, October 12th (Requires Guardians or Ravagers 5-star)
Invisible Woman: July 6th, October 26th (Requires Sinister Six 5-star)
Nick Fury: July 20th, November 9th (Requires Kree Minions 5-star)
Magneto: August 3rd, November 23rd (Requires X-Men and/or Brotherhood 5-star)