Welcome back to Marvel Strike Force (MSF) Mondays. Each week we break down one more aspect of the hottest mobile game, Mobile Strike Force!
Before we jump into it, I'd be remiss if I didn't mention the Nerds on Earth Discord Channel! We have a separate channel for some great Marvel Strike Force discussion. Plus, you're on a fast-track for our Alliance when there are openings! If you're interested, the Discord link is below.
Now, let's get to business!
This week we continue our exploration of the new ISO 8 modification system that was recently added. In my last article, I linked a good in-depth view at ISO 8 now that it is officially out, and also shared this Google sheet that Remanex has to help you place the right ISOTOPES on your characters.
Remanex and others are still raving about ISO 8 and the videos out are focused on what NOT to do early with ISO 8.
So, here is the list of our 7 Deadly Sins of ISO 8!
Ions!
1. Stop buying ISO 8 fragments with Ions. You can farm them with campaign energy. And if you are hustling, you can stockpile through the Full Matrix Event, so just DO NOT spend Ions on them in the store!
2. Be careful about fusing fragments together to level up because it costs a lot of Ions if you do it a lot. Again, you can cash in on the Full Matrix Event for upgraded fragments and we don't even know what other type of ways we can land these fragments. Ions are going to be a choke point!
3. Have we mentioned to be wise with your Ions currency? Because, it is important that you understand, this stuff is going to be scarce!!
Upgrading
4. Be very careful when going to upgrade because some people have found that the default is to choose the highest level fragments. This doesn't seem to be for everyone, but just make sure you know what level fragment you are putting on each character.
5. Be patient and selective on upgrading ISO on characters. While it is of course exciting to beef up your favorite toons right away, it may put you in a bad spot later. Even working off the "expert" lists of what ISO class to place on a character won't ensure that is the right class for your character.
6. Continuing, through the Full Matrix Event you are gaining level 3 ISO fragments. Some characters such as Emma Frost, who is clearly an endgame toon and worth investing in, have a clear ISO class (Striker).
If you leveled her up right away with level frags, fusing them to upgrade, and now are sitting on a level 3 fragment and your other controllers left to upgrade are Jessica Jones and Swarm, then you are stuck with a level 3 that might be too much investment for either of them right now and/or needing to fuse that level 3 to go higher with Emma, taking up more precious Ions.
7. Switching tags. This is not in and of itself the sin, but it is wise to switch the ISO tag/classes you sue to see what is the best use for characters, especially how you have them teamed up. If you place a level tag on a character, then switch to a different tag, you don't lose anything in the process.
If you go from a level 3 Skirmisher to Raider, you will drop to level 1 Raider, and if you want to get to level 3 in that class – you guessed it – more Ions spent. So, if you are like me and like to see your toons in action, then just go level one at first until you are confident in the ISO class you have chosen.
All in all, I like the ISO 8 modification system and all of its quirks. It adds an element of customization to the game that feels so much less arbitrary than hoping for a good Red Star drop. However, you also have to think a little more with this system and be very intentional with how you upgrade your toons!
If you want a VERY in-depth video with spreadsheets and everything for ISO and the costs, here is one by WolverThor who is without a doubt thorough!
Well I hope this helps you take your Squad from a D+ to a B- Commander!
---
Game Radar
Blitz: Monday heats up with Pyro. Thursday is the first round of SHE-HULK!
Events: SCREAM Campaign Event is ongoing. Remember to clear the higher-level nodes to convert the Easy/Medium levels to Auto-Win.
Upcoming Legendary: Star-Lord is coming back! Get your Guardians or Ravagers up to 5-Star or higher!
Black Bolt: April 27th, August 17th, December 7th (Requires Asgardians 5-star)
Shuri: May 11th, August 31st (Requires Spider-verse 5-star)
Ebony Maw: May 25th, September 14th (Requires Inhumans 5-star with Black Bolt)
Phoenix: June 8th, September 28th (Requires Mystic Villain Controller 6-star)
Star-Lord: June 22nd, October 12th (Requires Guardians or Ravagers 5-star)
Invisible Woman: July 6th, October 26th (Requires Sinister Six 5-star)
Nick Fury: July 20th, November 9th (Requires Kree Minions 5-star)
Magneto: August 3rd, November 23rd (Requires X-Men and/or Brotherhood 5-star)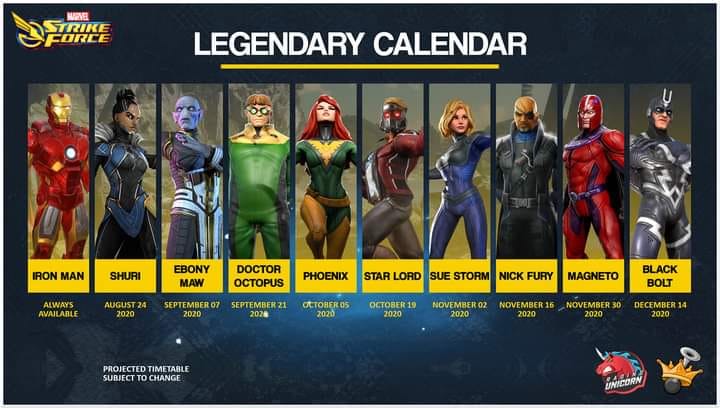 Previous Installments